Widow sues Ibinabo, Daniel Wilson over hubby's death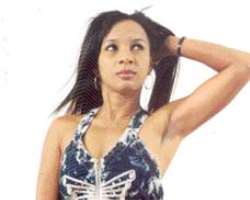 Widow of the late Dr. Suraj Giwa, Mrs. Olufunke Giwa, has instituted a N200 million suit against the former beauty queen and Nollywood actress, Ibinabo Firberesima, and ace musician, Daniel Wilson, over the death of her husband.
Ibinabo was convicted for manslaughter and sentenced to seven years imprisonment by an Igbosere Magistrate's Court sitting in Lagos, but given an option of N100,000 fine.
The Attorney-General of Lagos State, however, appealed against the judgment of the lower court before a Lagos High Court and trial judge in the cases, Justice Deborah Oluwayemi in her judgment in the appeal, sentenced Ibinabo to five years imprisonment without option of fine.
Dr. Giwa's widow, however, in the fresh suit, is claiming the sum of N200 million as damages for wrongful act, neglect of the defendants, which resulted into the death of her husband.
Olufunke Giwa is contending in the suit that the defendants are jointly responsible for the death of her late husband, who died in an accident on February 26, 2006 through the negligent and dangerous driving of the first defendant (Ibinabo) and the second defendant (Daniel Wilson) being the owner of the vehicle.
According to her, as a result of the death of her husband, she and her children have undergone pain and suffering.
She stated that "the deceased as bread winner of his family was fully responsible for the upkeep and maintenance of the claimant (his wife), his aged mother Alhaja Afusat Giwa and his three children, including the education of the latter, whom he had promised would be educated up till doctorate level in the United Kingdom or United State of America".
"In order to give his children the best education, the deceased sent them to the United Kingdom to school and was preparing for their entry into universities when he died," Mrs Diwa stated
The children of the deceased, who are alleged to be in universities in the UK are, Tesilim Babajide-Sheffied Hallam University, United Kingdom, studying Applied Computing from; Modinat Eniola- Liverpool John Moores University UK, studying law and Yenus Olarewaju- Liverpool John Moores University UK studying Sports Science and Psychology respectively.
Mrs Giwa further stated that as a result of the death her husband, his dependants have lost his love and affection as husband, son, father and their bread winner and provider.
The Commissioner of Police, Lagos State Command, it will be recalled had in 2005 charged Fiberesima to the Igbosere Magistrate's Court on a two-count charge of dangerous and reckless driving on the Epe Expressway, Lagos, that led to Giwa's death.
No date has been fixed for the hearing of the suit.

Story by http://nollywoodgists.com