GADDAFI TESTIMONIES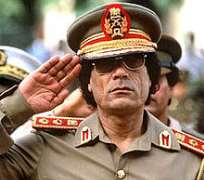 My dearly beloved members of Press Clips Pentecostal Church (PCPC), I thank God for last week's message on Gaddafi.  From your overwhelming responses to this sermon, I have no doubt that the message was from the throne of the Most High - He whose words would not return void until mission accomplished.
Thank you for finding the time to respond to the sermon.  It's very gratifying that we are winning more souls and more converts by the day into PCPC.  To God be the glory.  As you read the letters and testimonies from our members today, I pray that those who have ears would hear the 'Gaddafi Sermon' and turn a new leaf before it is too late.
May God remove the veils of pride, arrogance and greed that can bring the downfall of our leaders at all levels.  Remember you too you are a leader in your little corner.  May we all learn from Gaddafi's fate so that we don't end like Gaddafi.  These are edited versions of some of your letters:
***
Gaddafi is the tragedy of a man who lived like a king only to die like a fowl.  This is an instructive lesson to all African leaders.  There is a Gaddafi in us that must be tamed if we don't want to end up like Gaddafi. Rotimi Adedayo, Sango Ota, 07038384864.
***
Man is just as strong as God allows him.  But the moment he exalts himself, his destruction comes swiftly.  Onochie Agwu, Ilorin, 07062166656.
***
Gaddafi and his partners in despotism have proved that they were mere cowards and kitchen rats in lion's clothe.  Sunny Okonkwo, Isuochi, 08063010697.
***
Never allow your congregation to suggest what they want you to preach.  It is unbiblical.  They will always want what will suit their interest.  David, Abuja, 07053772648.
***
God bless you for the inspirational sermon on Gaddafi.  The word of God is yes and amen and it is final.  Sunny K. Inyima, 08034045261.
***
Gaddafi had it all, including a gold pistol, but he has gone down; a big lesson for all mortals.  Count me as your church member.  Lady V. Onyesoh.
***
Pastor Mike, the Gaddafi sermon is inestimable in value.  Prof. Ambrose Enyioma, 08100331699.
***
I won't read your column again after what you wrote on Gaddafi.  He died a hero, not a coward.  He could have run away if he wanted.  The article was offensive and in bad taste.  Besides, do you think only Christians read your column?  Barr Mustapha, Kaduna, 08028411319.
***
I am disappointed you joined the bandwagon to dance on Gaddafi's grave.  He was no more a tyrant than Obasanjo, for instance, and he did far more for his country and Africa than a million Obasanjos.  Solomon, Port Harcourt, 08124024722.
***
Your sermon on Gaddafi was a masterpiece.  You don't need a church or pulpit to deliver God's message to humanity.  You are God's chosen vessel unto honour to your own generation. Idris, Kano, 08023352632.
***
Gaddafi's infamous death is an everlasting lesson.  Ogorchukwu, Festac 08051058666.
***
Gaddafi is a display of God's power.  God bless you, my big uncle.  Akinbode O., Abakaliki, 08032229220.
***
Gaddafi did not read the handwriting on the wall.  He underestimated the resolve of NATO and the resilience of Libyans to bring his kingdom down.  K.C. Oyeka, 08062919810.
***
You have said it all. The Bible is a complete book.  Gideon Ebah, Apapa, 08055530124.
***
Good sermon.  God bless you, Mike.  We are expecting corrupt and wicked Nigerians to die like Gaddafi.  Thompson, Uyo, 08030854486.
***
Dear Mike, you will live longer.  Your sermon on Gaddafi is authentic.  Contentment is most important for every living soul.  08062688664.
***
My dear pastor, your sermon on Gaddafi is a food for thought.  I hereby promote you Bishop.  May your pen never dry.  Gideon, Ejigbo, 08033058670.
***
Gaddafi played into the hands of his enemies because he did not know when to quit.  He was the Pharaoh of our time.  08023365796.
***
Pastor Mike Awoyinfa, is it morally justified to exhibit the body of a dead man with derision?  Abu Babanyara, 08188802005.
***
Gaddafi wanted Nigeria divided into Christian South and Muslim North but he did not know that God loves Nigeria.  Thanks for your treatise.  Obaka, Abel Inabo, Unijos, 08032061373.
***
At this time of tension and insecurity, we need sermons that will bring peace and unity in our nation, which GEJ is struggling hard to lead to a promised land.  Inde Galadima, Gombe, 08166120867.
***
From palace to pit, grace to grass, glory to gory.  What a shame!  Emma Onah, Shendam, 08032616590.
***
I sincerely recommend that our dear Mr. President should give you national honour for that your brilliant Gaddafi sermon.  Eng. Agbonghale, 08032901526.
***
Pastor Mike, thanks for the Gaddafi Sermon, but could the verse you quoted have been for Gaddafi or all rulers of his ilk?  Lai Ashadele, Lagos, 08130479894.
***
Let the new Libyan government show where he was buried if it will not turn into a shrine.  Gaddafi was a true African hero.  Felix Agbonrofo, 08023137244.
***
Oga Mike, what a poem!  You have turned a serious issue into a poem.  For them that have ears, let them hear.  Val, 08036979388.
***
Good sermon, but the voice of the people is not the voice of God.  It's important to correct that notion.  Cherry Bluesky, 08033021230.
***
Clever and out of context application of the Scriptures is also out of place.  Dumiye Yusuf, 08099928680.
***
The Lord ministered unto me to tell you to set up a charity account with GTB for us the worshippers of PCPC to be paying something to help the motherless homes and prison inmates.  Please, don't fail.  This is the voice of Jehovah.  Deacon JJ Ibeka, National Holy Ghost Church of Christ, Festac, 07065773998.
***
The man of power, pride and greed suffer only loss, whether he be alive or dead.  Ahmed Dikachi Onyekachi, Enugu, 08180449073.
***
Pastor Mike, what a sermon!  I hope Nigerian politicians and leaders would learn from 'The Gaddafi Sermon.'  Gaddafi touched the Lord's anointed and he paid for that in the end.  Danjuma Tafawa Balewa, 08033319405
***
We have so many Gaddafis in disguise.  Soon their cup will be full.  Nwafor Ernest, Abuja, 08035109789.
***
Your column motivates me into buying Saturday Sun.  Gaddafi's shameful end is embarrassing not only to his family and his country but also to Africa as a continent.  Nzo Francis, 08033359457.