CELEBRITY QUOTE: LAGBAJA'S EX-BACKUP SINGER,EGO IHEANACHO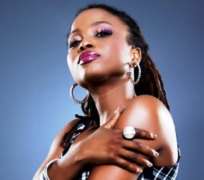 For me,when I have to make a decision and I eventually do,I'm finished with that decision.I'm not a worrying person.I don't overdo things.If something tells me,this is the right time to move on,I don't even bother myself about it anymore.
When I left Lagbaja,I had no plans of doing anything.It was later that I set up the band.But I knew it was my peak.It wasn't even immediately I thought about it that I left,it was after 2 months.And when I told him,he advised me on so many things and that was it.
Lagbaja and I didn't have any issues.I started my band and I realized it wasn't easy I had to keep calling him for advice on many things.I learnt so many things,it was what I learnt that has really helped me.
There were speculations that maybe because I got married and all that but it wasn't anything like that.It was just time for me to move on after 12 years.
Thank God I did.People only kept speculating.

EGO AND HER HUBBY ON THEIR WEDDING DAY

LAGBAJA