CLARION CHUKWURA'S PASTOR WARNS HER:DESIST FROM YOUR UNGODLY WAYS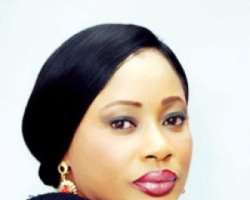 Star actress Clarion Chukwurah was recently ordained a new Ambassador of Christ at the Jesus Dominion Assembly,Omole Phase 1,Ikeja Lagos.
The new deaconess in town was ordained alongside her other colleagues in the Assembly.
The new title of the screen goddess,we gathered was given to her,based on the fact that the actress has turned a new leaf for some time now and has been evangelizing the gospel.The way she does things is now totally different from the time she was in the world.
Undoubtedly,Clarion has always clinched the ticket of popular celebrities with several scandals trailing her.
But as the saying goes,no one knows tomorrow,the amiable Clarion,we were told has finally came back to her maker.
An interesting twist was however introduced during the ordination service,just after the certificate that will stand her out as deaconess was given to her,her pastor,we learnt,told her to desist from her ungodly activities which she used to engage herself in when she was in the world.
According to her pastor; Clarion,you are now a new creation in the Lord,go away from your unrighteous ways.No doubt is the fact that you are a public figure and whatever you do will always be in the news and people will love to hear,see and read about you,but even at that,you need to let the glory of God shine in you,let God speak through you and also win souls for God almighty through your character.
You are now an ambassador in Christ and let it be in Christ not in crisis.
Immediately the message was passed by the pastor,the ever-ravishing diva,we learnt,searched her soul and went on her knees with tears.
Next time you see her preaching the gospel in the public,don't be surprised because that is the new assignment given to her by God.
click the link below to go to...