Real reason Monalisa Chinda left Dejo-Richards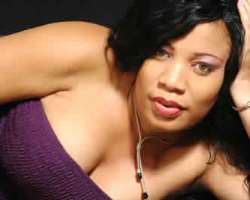 Monalisa, Dejo-Richards marriage latest
Dejo-Richards had another wife before Monalisa
•Real reason she left
Facts emerged during the week that Monalisa's estranged husband, Segun Dejo-Richards was married for six months before getting married to the Glo Ambassador.
Sources told us that Dejo had an elaborate wedding reception at the Sheraton Hotel and Towers, Ikeja, Lagos and was married for six months before the lady (name withheld) in question packed her load and fled.
Dejo, however, denied this, saying someone was out to ruin him.
Meanwhile, Monalisa has added another twist to the story, saying she did not know about the marriage until she got married to him and it was too late for her to leave. 'Those are part of the issues' (for the crashed marriage), she said. She then went ahead to plead with us not to publish the story because she wouldn't want people to think she said so.
Our source, however, insisted that Monalisa knew about the first marriage before she married Dejo. 'A friend of hers warned her but she chose to look the other way', our source said. 'She cannot claim to be innocent now that the marriage has collapsed. Her eyes were widely open before she walked into the man's life. '
Meanwhile, another source who does not want his name in print said Dejo Richards is economical with truth on issue of beating his wife. Monalisa was said to have attended one of Globacom's numerous unveilings with wounds believed to have been sustained in one of her squabbles with Dejo. Dejo had, however, claimed in an earlier interview with this reporter immediately we broke the news of the break up that the last time he laid his hand on Lisa was in 2006. He said all that has been put behind them and Lisa was, in actual fact, the first person to hit him in their marriage.
But a very close and knowledgeable source to the couple said that Segun has been consistently beating his wife out of insecurity. 'The girl had to pack out of his house when he could no longer control his temper. He almost killed her. She went to Glo function with a red eye, yet he goes about in the press trying to paint himself as a saint and others as being responsible for his woes. Did those people ask him to be beating his wife? Her family has been agitated since she announced her plans to get married to Richards. Her colleagues at work know him as wife batterer.
They just chose to look the other way. Her state governor had called her to comfort her. Segun is just insecure and looking for cheap popularity. Are you not surprised that Monalisa is not talking to the press, but he is the one granting interviews. The girl knew she was in a wrong marriage from onset, but she believed she could make it work, not knowing that she was deceiving herself. Call people and ask them about how he has been molesting his wife. Why is it that his in-laws are not friendly with him? Now, he wants to turn around to say it's because of money she left him.
The girl would have married a richer person. If money was her mission, she wouldn't have married him in the first place. She married him out of love, but when love was almost killing her, what do you expect her to do? She had to leave when the guy almost killed her.'
When contacted, Monalisa refused to talk, saying she wouldn't join issues with her ex-hubby. She, however, confirmed sending an apology to Genevieve via a text