Jim Iyke begins musical campaign to save Nigerian child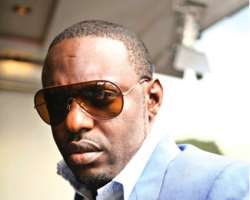 Nollywood's bad boy, and one of Globacom ambassadors, Jim Iyke who recently veered into music has several ways of surprising those who join issues with him. After months of speculation on the launch of his much talked about album, Jim is set, not only to launch his album but also to flag off his charity campaign to bring sunshine to the underprivileged Nigerians.
Jim last week disclosed plans to use launch of his album to flag off a musical campaign to lift the soul of the children of Adonai Orphanage in Kaduna.
The event which comes up on Saturday, 26 at Thisday Dome in Abuja will witness the unveiling of his album and fund raising to support the work of charity. Also, according to him, the event which is being planned by Rita Echeozo led Promotie Entertainment, will be used to mark 2face Idibia's 10th year anniversary .
Speaking about his album, Jim said, "my album is a way of trying to define myself, to the people without coming across as in-your-face- kind of person.
"Music has always been a part of me. I am using this as a tool of expression, telling my own story with my own mouth and lending a helping hand to the orphanage with over 30% proceeds from the album. That is the kind of person that I am. I am emotional about children.
I sympathize with them. I feel their pain and I'm most comfortable around them because they are less complicated unlike adult."
According to Omar Oyin Bala, Jim's manager, this album is not about Jim Iyke as a star. "Jim is comfortable. He is doing well but he feels uncomfortable seeing children who could be better off with little assistance. He is embarking on massive drive for this work and he is leaving no stone unturned to make it a success so that the little children at Adonai Orphange in Kaduna would have access to better life.
The tour, the album, the concert and donations are not all about him. Everything is about expressing a part of him that yearns for the less-priviledged kids. He is trying to put his money where his mouth is."
To this end, Jim is having a-7000 children walk through the streets of Abuja to raise awareness for the children of Adonai Orphanage in Kaduna whom he is planning to build a N5 million worth of house for because the landlord of their present location gave them quit notice. The walk which involved several celebrities started from the FCT Minister's office and ended at Millenium Park.
"We must quickly point out that whatever case it is, a lots of people are waiting for our client and he is more than prepared to give this his best, which is the reason he has given this his very best to make this musical work a world class.
The videos of 'Who am I' and 'Born to do this' were shot with world class hands and fortunes were spent on them. And we all know the credibility of Puffy T, the producer of most of the songs. All in all, Jim Iyke will not disappoint us. We believe not a few skeptics would be wooed when the album finally drops. He is our own bad boy with a good cause," the publicity company wrote.