KESHI SEEKS FLYING START WITH EAGLES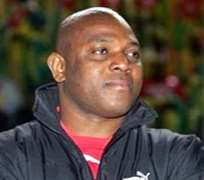 • Coach Stephen Keshi
After his unveiling ceremony as the new Super Eagles' gaffer on Thursday, Stephen Keshi seeks to begin his assignment on a flying start this afternoon, as he guides the national team against the Zebras of Botswana in an international friendly match inside the main bowl of Dr Samuel Ogbemudia Stadium in Benin City.
Fondly called the 'Big Boss', Keshi returns to the ancient city of Benin where he made a huge mark with the New Nigeria Bank FC in the domestic league scene during his playing career.
Today's game, which coincides with the inauguration anniversary of Comrade Adams Oshiomole as governor of Edo State, has generated a lot of excitement within and around the state capital city of Benin.
Although the Nigeria Football Federation (NFF) has said that the former Super Eagles' influential captain would not be judged with the outcome of tomorrow's match, as well as Tuesday's friendly against the Chipolopolo of Zambia at the Kaduna Township Stadium, Keshi will no doubt, want to kick-start his tenure as the head coach of Nigeria on a high, knowing that victory would boost his popularity among soccer-loving Nigerians, who have zero tolerance for failure in the game.
Interestingly, the 49-year old tactician spoke glowingly about his players, who he said had demonstrated a new spirit and positive attitude during their training sessions ahead of today's game. His comment comes on the heels of the Super Eagles' huge disappointment of not qualifying the country for next year's Nations Cup amid suggestions that the players' attitude was nothing to write home about during the qualifying games.
'They (the players) showed good attitude at training,' remarked Keshi after his first training session with the team on Wednesday. 'I think they're beginning to change their mindset, they want to do something right this time around and we need to help them and be patient.
'These guys (the players) are not from Jupiter, they're human beings like us. It's not that they can't make mistakes. We all make mistakes, but it's just that we have to learn from our mistakes. Right now, what they're doing is very encouraging,' the Big Boss enthused.
The players equally shared their dream of a new Super Eagles that would regain the confidence of Nigerians in no distant time.
'He (Keshi) is a legend in Nigeria, a great defender and someone who the players and officials respect a lot,' said Eagles' captain, Joseph Yobo. 'He has shown us that he knows what he is doing and together, we hope to rebuild the trust of Nigerians in the team,' the Fenerbache of Turkey defender added.
The duo of Chinedu Ogbuke and Ahmed Musa vowed that Super Eagles must win both today's game against Botswana and that of Tuesday against Zambia to pacify Nigerians for the 2012 Nations Cup miss.
'Missing the Nations Cup was a big disappointment for every football-loving Nigerian and the team also. We will, therefore, use these friendly matches to make our countrymen and women happy. We want to win the two matches for Nigerians,' said VVV Venlo of Holland forward, Musa.
The Zebras of Botswana, who will be making their debut at the Africa Cup of Nations early next year, will get a taste of things to come when they face Eagles on the artificial pitch of the Samuel Ogbemudia Stadium in Benin City.
Botswana Coach, Stanley Tshosane, has said that today's game against Nigeria was simply the kind of friendly he has been craving for before the West African challenge that awaits his side in Group D at the Nations Cup in January.
Group D comprises Mali, Guinea and Ghana, which Botswana will face in her opening game of the Nations Cup on January 24 in Franceville, Gabon.
'I'm happy that Nigeria has announced a strong squad for the friendly, as it will help us a lot,' Tshosane said. 'I believe we will learn from them.'
Tshosane's 23-man squad to Nigeria is largely made up of players plying their trade in the South African League. He would, however, miss his first-choice goalkeeper, Modiri Marumo of Bay United in South Africa due to injury. Therefore, his second goalkeeper, Noah Maposa of Gaborone United, will stand in for Marumo.
Also to miss action in Benin is key midfielder, Dirang Moloi, who is currently embroiled in clearance battle with his former club, South African Vasco da Gamma, as he is now with Notwane of Botswana.
Ramatlhakwana, Botswana's 2012 Group K Nations Cup qualifying hero with five goals, will make the team despite being frozen at his South African club, Santos. Like his Zebra teammate, Moloi, he is bogged down in a want-out scenario with his South African club since the start of the 2011/12 season.
But Tshosane said, while he has fitness concerns over some of his foreign-based players, the onus still lies on the team to show Nigeria that Botswana qualified for the 2012 Nations Cup on merit.