Mitte Steps Down As MOSOP President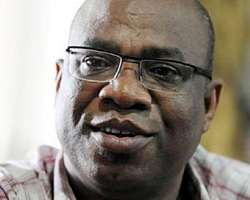 LEADER OF THE MOVEMENT FOR THE SURVIVAL OF OGONI PEOPLE (MOSOP), LIDUM MITTE
PORT HARCOURT, November 10, (THEWILL) – The leader of the Movement for the Survival of Ogoni People (MOSOP), Lidum Mitte has said he would step down as President after about 16 years as head of the Ogoniland group which was founded by the late Kenule Beeson Saro Wiwa and a group of activists from Ogoni in protest against the degradation of its land and natural resources by the exploration activities of oil companies particularly Anglo-Dutch giant Shell.
Mitte announced his exit at the 16th anniversary of the killing of Wiwa and other Ogoni martyrs held Thursday in Bori, Rivers State, saying he would not be seeking re-election as MOSOP President.
"The fact that I have decided not to seek re-election for MOSOP President should not be misconstrued as an indication that I am leaving the organization. I will always be committed to MOSOP and the Niger Delta struggle," Mitte told fellow supporters of the Ogoni struggle.
Recall that Mitte and the Ogoni Youth Leader Goodluck Tegaloo Diigbo have had a running battle over the leadership of the group for over two years.
But with Mitte's exit, Diigbo should have an easy ride to becoming president of the group.