NFF OFFERS OLISEH U-20 TEAM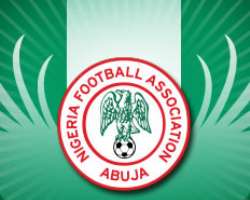 Former Super Eagles' skipper, Sunday Oliseh, may end up as national Under-20 coach if he is really interested in raising the standard of Nigerian football from the youth level.
The Nigeria Football Federation (NFF) has decided to offer Oliseh the Under-20 team job following the technical committee decision to give the new Super Eagles' Head Coach, Stephen Keshi a free hand to operate.
Oliseh, who has been looking forward to working with the 'Big Boss' as one of his assistants, recently had his dream dashed when the NFF resolved that Keshi should pick his team as the Glass House wouldn't want to interfere in the coach's technical matters.
According to a dependable source, the NFF wanted Oliseh to start his career with the national team from the under-aged level for him to gather enough experience before graduating to the senior side.
'Definitely, Keshi/Oliseh team couldn't work and NFF thinks the only way to encourage the new coach is to give him free hand to select his technical crew and hopefully, he has some coaches in mind to pick from across the country,' our source said.
'Keshi is confused. He doesn't know what to do now because there are coaches already lobbying to work with him. There are too many of them around. Orlando Pirates' Willy Opara has indicated his interest to work on the goalkeepers, so Keshi is taking his time to pick the right choice,' he added. But Oliseh would have to confirm if he is ready to take up the job or not, as the NFF has not offer any other coach the Under-20 job.
Oliseh played 63 international matches and scored four goals for Nigeria and played at the World Cups of 1994 and 1998. He also participated in the Olympic gold medal winning team of 1996.
Despite captaining Nigeria during the 2002 African Cup of Nations, he was dropped from the Super Eagles' World Cup squad later that year for disciplinary reasons. After missing out on the World Cup selection, he retired from international football in June 2002.
In March 2004, Oliseh was sacked by Borussia Dortmund after punching a team-mate, Vahid Hashemian, while on loan at VfL Bochum. In January 2006, at the age of 31, he retired from professional football.