ASA TAKES CENTRE STAGE AT SMOOTH FM CONCERT TODAY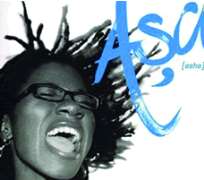 Asa
The Smooth 98.1 FM's much talked about Love Music Love Life Luxury Concert is finally here! Today, the best of Nigerian music will assemble at Eko Hotel and Suites, Victoria Island, Lagos to witness extraordinary performances by three outstanding international acts.
Singer/songwriter Asa, Pamela 'the Saxtress' Williams and famed jazz guitarist, Jimmy Dludlu are all on board to take the audience to funky town and back on a night of seamless musical performances in a luxurious atmosphere fashioned specially by Smooth FM.
'Our audiences will to groove along to the soulful sounds of Asa; seductive pop/funk blend from Pamela Williams's saxophone and the jazzy guitar riffs from Jimmy Dludlu who has been dubbed a 'jazz maestro' and 'guitar phenomenon' by his peers in the industry. All three performers will grace our stage for one night only, for a truly unforgettable and luxurious concert experience,' Aderonke says
Long before record companies became aware of Jimmy Dludlu, the media were already celebrating him as the hottest and most stylish talent among South Africa' new jazz generation. He is being heralded as an extremely talented guitarist, gifted with insight for composing and arranging his style of music.
As a self-taught musician, Dludlu developed his skill as a child listening to the radio and imitating the jazz and African music sounds coming from it. He cut his musical teeth by working as a session musician and performing with various Southern African bands including Impandze from Swaziland with Jamaican singer, Trevor Hall and Kalahari & Satari from Botswana. He eventually went on to found the highly successful music group 'Loading Zone' in 1991 and toured with them across the continent, opening for stars like Hugh Masekela, Miriam Makeba, Brenda Fassie, and Sipho Mabuse.
Dludlu's style can best be described as Afro-Jazz, as he combines both traditional and modern elements of jazz drawn from South African musical legends blended with elements of Latin America and sounds of West and Central Africa.
In May this year, Dludlu released his seventh album of his 14-year career entitled Tonota, named after a small village 15 minutes from Francistown in Botswana that gave him his roots and first music flight. He will be performing tracks from this and past albums all night today.