BABA SUWE REGAINS FREEDOM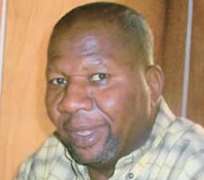 Baba Suwe
Ace comedian, Babatunde Omidina, a.k.a. Baba Suwe was yesterday released on bail by a Lagos High Court sitting in Ikeja. The actor was released by Justice Yetunde Idowu after it was confirmed by the National Drug Law Enforcement Agency (NDLEA) prosecution counsel, Femi Oloruntoba, that no illegal drug had been found in his faeces and he had fulfilled all the requirements for bail.
Delivering her ruling, Justice Idowu told the applicant to take good care of himself. 'I wish you well and take good care of yourself. You are free to go,' she said.
NDLEA counsel, however, prayed the court to allow Baba Suwe to come to the agency's office on November 11, 2011
'I undertake that he would not spend more than two hours with us because we need to conclude our investigations,' he said. In his reply, Baba Suwe's counsel, Bamidele Aturu, stated that his client had made 25 excretions without any cocaine found therein.
He said: 'Ordinarily, I would not be opposing the application, but based on what the applicant told me happened last Wednesday I will. The applicant told me that after the court sitting on Tuesday, he was not allowed to eat on Tuesday night and was taken to one hospital on Victoria Island. He said he was there from 9.00am till 9.00pm, which is a period not less than 12 hours and all sorts of tests were conducted on him
'His system was flushed and nothing was found and no report of the test is before this court. Also, the test was done without the consent of the applicant and he does not know what was done to him. They also have not told the court the form the investigation and what type of test they want to conduct again.
'I submit that asking him to come again is unwarranted in this case and the court should use its discretion in the matter, since I cannot say that the agency should not do its work.'
Oloruntoba told the court that he was not aware of any test, but promised to investigate and send such reports to the court, as it was not in his habit to withhold information from the court or his colleagues.
'If there is a report or test results, I will bring it before the court and also avail my colleague of a copy,' he promised.
Baba Suwe confirmed that he was taken to the hospital. 'On Wednesday morning, the officers of the NDLEA came to tell me that we were going somewhere; so I dressed up and followed them. They took me to one hospital on VI, where they put something in my mouth and my anus and they pumped water into me. I started stooling and I stooled up to six times before we left the place and I'm still stooling,' he said.
An official of the NDLEA, who Baba Suwe identified as one of the people that took him to the hospital, confirmed to the court that it was true. He explained that he was instructed by the Assistant Commander of Operations to take Baba Suwe to the NDLEA hospital in Ikoyi and from there the doctor took him to another hospital on Lekki Peninsula
He, however, said that he did not know what went on inside the hospital or about medical test since he only handed the actor over to the doctor, as instructed.
Justice Idowu condemned this action, saying the fact that the applicant is in NDLEA custody does not mean he should be treated anyhow.
'This is not proper. The man is human and not a robot. I don't feel comfortable with this. At least, the man deserves some respect, regardless of being in custody,' the judge declared.
Baba Suwe's friend, Olakunle Oguntoyinbo, who stood as surety for him, told the court that he has known the actor for more than 25 years .
The judge fixed hearing in the N100 million suit filed by Baba Suwe against the agency for November 24, 2011.