I LEARNT MUSIC AND FILM FROM MY ANCESTORS -OLA BALOGUN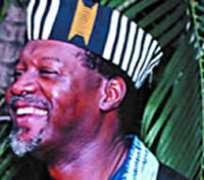 • Balogun
Popular filmmaker and music promoter, Ola Balogun grew up as one of the privileged Nigerian children who were born into wealth. As a child and school pupil, he was always conveyed in limousine to school. Unfortunately, this was short lived as his father died while he was very young, leaving his mother the arduous task of seeing to his upbringing and that of his sister in Aba, now in Abia State.
OB, as he prefers to be called is an accomplished musician, filmmaker and culture activist. Recently, OB organized a get together in honour of his later mother who showered him favour and tender love. He spoke to the Daily Sun on this and other issues concerning arts, culture and politics. Excerpts:
Background
The source of wealth in my days was very important. This is coupled with the kind of family from which I was raised. Right from the age of three or four, a child was told his origin, his or her paternity and how the people conduct themselves. There were always dos and don'ts. And this is peculiar to the Yoruba people and their patterns of behaviour.
So, anything I did must be up to the standard of what I learnt from my parents and I'm very proud of the teachings and values they imparted in me. They didn't give me money, but they gave me the examples of their integrity, and their belief in humanity because they were very egalitarian. They didn't differentiate between people on the basis of their material wealth or the fact they could speak better English or otherwise.
My father was perfectly at home with my mother, Mrs. Ibironke Epiphania Balogun (nee Ajayi). She had her origin in Kwara, South West, Nigeria. But about four generations ago, her ancestral and great number was taken away in slavery to Brazil. Her grandfather later returned from captivity in Brazil. She belonged to a family of the Brazilians returnees in Lagos.
My foray into film and music
I grew up in a house full of books. I was interested in literature. When I was in secondary school, I wanted to be a writer. I used to write short stories. I had a very good English teacher in King's College called Mrs. Butterfield. My father also attended King's College.
There was a gentleman called Ezekiel Falele, a South African who came to teach in Nigeria while in exile. He was a teacher in Methodist Boys High School. He was very kind and I used to take some of my works to him to proofread and give pointers. He was very patient because he would take time to go through my work then as a 14-year-old boy. My father died when I was just 12 years old. I was born with silver in my mouth but it was yanked off very quickly.
At 5, I was being taken to school on American limousine with a driver. My parents always gave us the best of what they felt was needed and not what we wanted. Ours was a family where siblings were sent out at a very tender age to school, to study arts, music, and drawings. We were sent to learn how to play piano. I didn't learn much piano because the teacher, Mr Otutubuike, had two pretty daughters who took much of my attention and from whom I learnt a lot in Aba, South East, Nigeria.
Fortunately for me, I completed my secondary school on scholarship. I later got another scholarship to study at the University of Dakar, Senegal. I spent one year and the exposure I had made me a pan-Africanist. From Senegal, I went on my own to study in a university in France. It was a harsh experience for me, a 17-year-old boy. I worked single handedly to keep body and soul together. I'm proud to say that I've been a labourer, who worked in butchery shop, and did all manner jobs. I've paid my way through life.
The society in France is well organized. I noticed that this young boy called Ola Balogun who came from Africa all by himself, things may be difficult for him but to my surprise, I was summoned one day to the university administration office, and was told that I was being given a full government scholarship. This came like the law of karma because when people do well to others, the goodness returns to them, if not directly to them, to their children and descendants. And I think all the good my parents did brought the good luck to me.
In France, I was exposed to a lot of films because they had many cultural centres and cinemas. It was there the bug of cinema bit me. I started to do films. After my first degree, I opted to go to film school. This move brought me in contact with a nice Nigerian and public servant. I was groomed to go on after my first degree in Modern Literature to do Masters and become a teacher. When I decided to go to film school, they said it is only if the Nigerian government agreed. And I was in far away France.
But fortunately for me, a Nigerian government delegation came for a conference, and it included the permanent secretary of the Federal Ministry of Education who was called Alhaji Durosinmi-Etti. Those days, the top civil servants in Nigeria were serious people.
When they attended conferences abroad, after their hours they would return to their hotel rooms without going for shopping or other frivolities. And pride was not part of them. When I went to Etti to introduce myself as a Nigerian student in France, he didn't ask questions. He ordered me to his room and when I went in and explained, he signed the file. He is today blessed with children in strategic positions of the Nigerian economy. He is a true example of how Nigeria should be run without ethnic and religious biases. .
My life as an artiste
An artiste does not live by classifications. He lives by inspiration. Anything I'm doing as an artiste is from the ancestors. An artiste is like a radio or television, of which medium certain messages are passed across to people. 1t is the ancestors who determine whether I should write, make music or produce a film. I'm a man at the service of our people. Science has proved it, with what is called DNA that when one is born, the spermatozoa that comes from a man to the egg of a woman has the description of a human being and the intellectual qualities of all the people who preceded it.