KESHI SIGNS EAGLES' 2-YR DEAL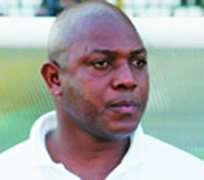 • Keshi
Nigeria has confirmed the appointment of a former captain of the Super Eagles, Stephen Okechukwu Keshi, as a replacement for the sacked coach, Samson Siasia, and given a mandate to take Nigeria to the Brazil 2014 quarter-finals of the World Cup.
Keshi replaces Samson Siasia, who was sacked last Friday after his 2012 Nations Cup qualifying failure. The 49-year-old, who captained Nigeria at the 1994 World Cup finals, was previously in charge of Mali and Togo at international level. Keshi was also part of the last Nigerian side to win the Africa Cup of Nations – as they did in 1994.
'It was a unanimous decision taken by the Nigerian Football Federation (NFF) for the appointment of Stephen Keshi as the new head coach of the national team,' said NFF Deputy President, Mike Umeh. The NFF's Executive Committee met in the Nigerian capital, Abuja, yesterday and deliberated on the recommendations of the body's Technical Committee, that had recommended Keshi.
Has he has been given a deal that runs till 2014, Keshi was given a mandate of taking Nigeria to both the 2013 Nations Cup and the World Cup the following year. His contract includes a stipulation that he must qualify for South Africa 2013 and reach the quarter-finals of the 2014 World Cup in Brazil.
Keshi will be free to choose his assistant. There was no news on whether a technical director will be appointed to supervise him. This is mainly because Keshi achieved a major qualifying success when he led the unfancied Togo to the 2006 World Cup in Germany.