Delta University Graduates First Set Of Medical Doctors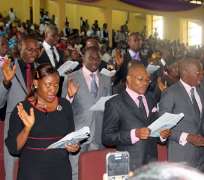 Delta State Governor Dr. Emmanuel Uduaghan has offered automatic housemanship jobs to the first set of 25 Medical Doctors who graduated from Delta State University, Abraka.
Announcing this at the first graduation ceremony of medical students from the university in Oghara, Dr. Uduaghan said the offer was done to encourage the doctors after years of toiling.
He promised to put the best equipment in the hospital and make it a centre of excellence in the country.
The governor also promised to employ more specialists so that the image of the hospital would loom large and attract students and patients from far and near.
Dr. Uduaghan therefore forecasted that in the near future people would no-longer travel to India for medical treatment but would patronize Oghara teaching hospital because of the feat recorded.
"Delta State Teaching Hospital, Oghara will have the best facilities and a time will come when it will take over market from India. From far and near, students and patients will come to this hospital."
He enjoined the new medical doctors to be dedicated to their esteemed profession and not allowed the quest for material wealth dent their image.
Explaining that a life lost can never be brought back the governor said the profession made saving of life a priority over all other considerations.
Dr. Uduaghan charged them to shun all forms of strike stressing that abandoning work meant abandoning their patients which carries grave consequences.
The governor expressed appreciation to Oghara community for being a good host and appealed to the people to live with students and workers peacefully at the hospital.
Speaking before admitting the doctors into the Medical and Dental Council, the Registrar of the Council, Dr. Abdullmumini Ibrahim enjoined the doctors to be good ambassadors of their Institution and should not allow people to ask derisively which institution they graduated from.
Dr. Abdullmumini said that if they allowed such question to be asked about their competence especially their professional expertise, it would bring shame and disgrace to their institution, the profession and themselves.
He therefore charged them to be diligent and embrace the ethics of the medical profession through indept practical exposure.
The Vice Chancellor of the University Professor Eric Arubayi commended the state governor Dr. Emmanuel Uduaghan for intervening the college of medical science of the institution was at a cross road over the accreditation of the medical course. Prof. Eric Arubayi said the college of health science was given its first clinical accreditation in June 2009 while the second by MDCN and final one came February 2011.
He commended the medical doctors for their patience even as he said that their perseverance and determination paid off and made them to succeed.
Highlight of the graduation ceremony was the swearing to the Oath of the Medical and Dental Profession by the 25 medical doctors.