My children, press, taught me how to speak English –'Salawa Abeni'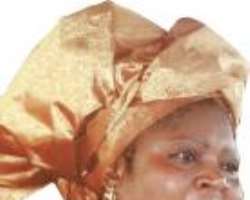 Queen of waka music, Alhaja Salawa Abeni is one of Nigeria's most successful female musicians. In this interview with OSEYIZA OOGBODO, she speaks on her career, children and her relationship with the press.
Apart from music, what else do you do?
Nothing. For now, nothing. Music is in my blood.
But virtually every other musician supports music with other businesses like contracts and trading. Why not you too?
When the time comes, I'll surely do that too, but for now, music is all I do.
So how easy is it to sustain yourself as a musician?
I thank God. Alhamdulilallhi. I thank God for everything. My fans are there for me all the time.
The global economic meltdown is affecting the virtually everybody. How has it affected you?
Oh, normal, normal. Before, musicians used to play from Thursday to Sunday, Monday, even some on Wednesday. I used to tell my manager that, "Don't kill me oh. How do you want me to play from Thursday to Monday?" But now, with prayer, you can only have two. Yeah, it's affecting everywhere, it's everybody.
Can you recall your first-ever performance?
I don't think so. But I can recollect my first album in 1976. That was when I did it in memory of the late General Murtala Ramat Muhammed.
How was the recording experience for you then, being your first album?
We did it at Afrodisia, then it was Decca. Oh, I was nervous. They said, be looking at the red light, don't breathe, don't talk, don't touch anything, when the red light comes on, start, and if the red light goes off, definitely there's a mistake in the recording. But if the light goes off when the minutes are complete, that means we're okay.
Can you compare the recording style then with the present?
Now, it's very lazy. Then, it was strenuous. But nowadays, it's very lazy, you can even record on the Internet, put your keyboard in your room, be singing and look for the key that will match the beat. But then, you had to make sure all the instruments you were going to use, you had them, or you would go and rent them. These days, it's very lazy because musicians of now don't want to work. They don't want to strain themselves. But we thank God for everything.
You were nervous when recording your first album, which is normal, just as every musician has stage fright the first time on stage. But you can't recall your first performance. What was your stage fright experience at any point in time?
No. I've never had stage fright.
Are you sure?
Oh yeah, I am.
How did you get into music?
Out of love for it, I got into music in 1975 where I was born in Ogun State. I grew up in Igbogun, under Epe Central, Lagos State. Then we used to listen to three records, three musicians rather, through the radiogram that was used by hand in the 70s. We used to listen to King Sunny Ade, Commander Ebenezer Obey, Dr Sikiru Ayinde Barrister. In theatre, we used to listen to Efunsetan Aniwura and I-Show-Pepper written by Professor Akinwunmi Ishola. So we used to do 'boju boju, oloro nbo'. But whenever it was time for the programme, I used to leave my people to go and listen. Then, we had to peep from the window, because it was only two people that had radio and radiogram in my town. The man now noticed that anytime they were doing this programme, I was always by his window, he and his friend. He now said, 'Come, we see that you like this thing, come and be listening to it'. Then one day, I just said to myself, "I want to be a musician. I want people to be hailing me, and calling my name." I just said my own. I didn't know that when I said it, the angel that was passing said 'Amen' and Almighty Allah said 'Kun faya kun'. That was how it started.
Your youngerbrother, Alhaji Adekunle, is your manager. Is this sensible?
Of course. He's more educated than I am. And after my mother and my sister, I'm also among the people that brought him up. It is said that two heads are better than one. He's my blood, and he's my manager. When it's time to be my manager, he is. When it's time to be my blood, he also is. The same thing for me. That's the way we do it. We don't mix business with our blood.
You are a successful woman.
Thank God.
And Nigeria is the country that made you. How are you giving back to Nigeria?
Well, I'm not rich, I'm not poor. Thank God for everything. And all the good people that have been supporting me all this while. I don't have anything to give to Nigeria than to be telling Nigerians that we don't have power, but we have brains. We can't fight them physically, but we can tell them what they should do through music. So, what I have to give them is singing to remind them of what we lack in this country. That's the only way I can give back. Whether the government listens or not, I will continue to do this.
Tell us the records you've done that with.
A lot. A lot. But I can only remember the last one, The Truth (Okodoro Oro). We started it with the National Anthem, I was talking in-between, then I sang that Ta lo so pe Naija o da, ki n se pe o da, afefe nfe bo se ye ko fe, ki n se pe o da, orun ran bo se ye ko ran, kin se pe o da, oru n mu bo se ye ko mu, ki n se pe o da, sugbon awon olori ta ni o da, olori tani o da, olori tani o da, and so on.
The lyrics you just sang are very direct. Anyone who hears it understands what you are saying easily. How did the government take it?
I don't know. But I've sent my message to them. It's now for them to learn from it and do what we want. We mekunu (poor people), yeah, because I don't know, I don't understand our country anymore. This particular album that I sang part of, both sides were a message to the government, because I was so pissed off. You see some areas, they don't have light for one year, some six months, some two months, some no security, everything is just tiring.
Have you been harassed by the government?
Oh, not yet. I'm waiting for them. I'm a citizen of this country, so whatever they want to do, I'm here.
You are the only visible face in waka music. Why? Is it that other women are not singing it?
They are. I met waka, I didn't create it. It was there before I was born. I met waka through Mama Batili Alake, Adetona Aduke, and many others. And some have come after me too. Some sing Islamic waka, some waka fuji, some Christian waka. It's the way they name it that's different, but waka is still very much there. It's only that God said that everybody would mention Salawa Abeni's name. It's not by my power, not by my making, but Almighty Allah.
Do you go to Mecca on an annual basis?
Yeah. During Ramadan, I go to Umrah. And during the Hajj, if I want to go, it's to perform the Hajj. I was in Umrah last year and when I couldn't go, I sent one of my boys to go and perform Hajj. My own, I don't want to be selfish, it's that, if I have the chance, I'll go to Hajj, but if I don't, I won't let the opportunity go, I'll send someone.
Do you still talk to Alhaji Kollington Ayinla?
Yes and no. The yes is that when we need to talk about the children, yes, but if not, no.
Tell us about your children.
They are doing fine. I don't need to make noise before you know them. They will prove themselves to you and God will prove them to the world. That's all I can say about them.
What do they do?
I had three boys and a girl, but lost one, remaining two boys and a girl. The girl is my first-born. She's in London, the second is in the University in Canada, and my last is in Unilag.
Some say your daughter daughter taught you how to speak English.
Oh yeah. And the press.
The press?
I have a family in the press. If I'm doing interview with them, some of them are my brothers, my sisters, the way they rap with me, the way they correct me, I always make amends and stick to them. Especially my children.
Musicians undergo some bad experiences on stage. An example was Adewale Ayuba who was shot. Have you ever had a bad experience that made you feel like quitting music?
That's very normal. Every work is challenging. Whatever you want to do and be successful in, be you a man or woman, you should expect the other side. But once you determine that this is what I'm going to do, you will surely succeed. If anyone tells you that no, you won't have difficulties, don't believe, because in every job, you have to pass through hard times, but at the same time, you'll overcome them.
What are your future palns?
I hand myself and my plans over to Allah. I can't say I'll do this or that. I've always followed God's direction, and I'll continue to do so.