RITA DOMINIC ON THE NICK OF TIME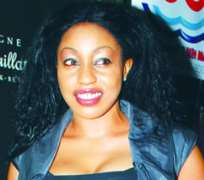 • Dominic
Over a decade ago, Rita Dominic was a wannabe star. At a meeting over a decade ago, she told this reporter that she wanted to be all she could be. Shortly after, Rita emerged from the lot to become a bona fide star. A star whose stardom transcends the shores of this country; and ever since Rita has maintained this status and still evolving.
Rita caught the attention of many when she was constantly paired with Jim Iyke in many love movies. She moved on to emerge a stylish star; doting the cover of movie jackets. For many, that was all there was to it and would ever be; but she went on become one of the stars, who telecommunication giant, Globacom, picked for its corporate endorsement.
Recently, Rita announced the birth of her company, Audrey-Silva Company, an entertainment firm with bias for movie production, and hinted about a book on her, saying she would soon start production of her movie.
Some took her seriously, while others believed it was business as usual. But exactly two weeks ago, Rita and her manager, Mildred Okwo, hit Ikeja to shoot a movie.
Being on location as an actress, for Rita, is nothing new, but this particular production comes with new callings. For the first time, Rita is producing a movie and is also investing her money in it. That makes her a general with three stars on the location – an executive producer, producer and actress. This is the first time Rita would be making such bold move, and for those who have followed her career since 13 years ago, Rita is just on the nick of time. Nick of time in the sense that it is high time she raised the ante, and since beginning of the year, the UNIPORT graduate has not slowed down. She was on Izu Ojukwu set for an epic, and talk has it that her role in Kenya, from where she recently returned, is mind-blowing. Now, she is crowning her efforts this year with a movie production and is sparing no cost.
'I intend to get it very right,' she said when we visited location of the movie being shot with RED by a Briton, Jim Bishop, who boasts of over 18 years' experience in the field. Will Rita make the best of it? Time will tell.
The movie's storyline
On a Monday morning, Makinde Esho (Femi Jacobs), a corporate executive at Techmast Nigeria Limited, flies into Abuja to have an important 9:30 a.m. meeting with the Honourable Minster of Land Resources. Mr. Esho's mission is to secure a government authorization to build a mast sub-station and return to Lagos on the afternoon flight. There is a lot riding on this authorization as it will save Techmast from imminent liquidation and EFCC investigations.
Upon arriving Abuja, Esho assists a female youth corps member, Ejura (Linda Ejiofor), by giving her a lift into the city from the airport. During the ride, Makinde takes a call from his only daughter, Kikelomo (Kehinde Bankole), who is graduating from the university that Friday. She is fretting over her preparations for the big day.
Makinde is ignorant of how difficult it would be to see the minister until he meets Clara (Rita Dominic), the impenetrable receptionist, and a cast of other characters in the minister's reception room. Clara informs Makinde that his appointment has been pushed to the afternoon. Our protagonist is forced to kill time in the minister's reception room only to be bumped off the appointment list again.
The MD of Techmast is furious and orders Makinde to stay in Abuja until he gets the authorization or risk losing his job. Though unprepared, Makinde stays and for the next few days he is continually bumped off by a series of incidents, some inadvertent and others orchestrated by the minister's powerful receptionist. Every evening, he meets with Ejura, who introduces him to Abuja and for the first time since his wife died, Makinde finds himself letting his heart go.
Having to deal with the receptionist's antics, pressures from his boss and constant calls from his daughter, Makinde struggles to complete his Abuja mission and return to Lagos on time. But, will he make it?