TINUBU WORSE THAN ABACHA, IBB-OBANIKORO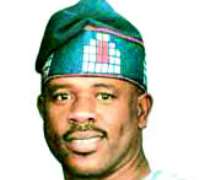 Ambassador Musiliu Obanikoro is not new in politics. He was chairman, Lagos Island Local Government, a former senator of the Federal Republic of Nigeria and currently the nation's High Commissioner to Ghana.
In this interview, he speaks on the recent local government election in Lagos, describing the results as shocking.
His son, Jide Obanikoro, contested the chairmanship position of Ikoyi/Obalende Local Council Development Area (LCDA) on the platform of the Peoples Democratic Party (PDP) and lost. But the ambassador is bitter about what he termed brazen disregard for the people's mandate and accused former governor of the state, Asiwaju Bola Tinubu, under whose administration he served, of being the brain behind the 'fake' results. He also expressed disappointment in Governor Raji Fashola, who he described as a hostage, and retired Justice Fatai Olayinka, who presided over the election.
It was a no-holds-barred interview that took place in Ghana.
Did the result of the local government council election shock you?
If there is any word better than shock that is what I would use. I knew they would try anything humanly possible to rig us out, and I also knew they employed Action Congress of Nigeria (ACN) members as electoral officers, but I never thought we could win an election and they (ACN) would write a completely fake result and announce it. Even IBB did not do that. It is completely unbelievable. And this coupled with the fact that the presiding officer is a retired Chief Judge and the governor of Lagos is a Senior Advocate of Nigeria. I am not surprised by the former governor, Bola Tinubu, because of his antecedent, but in Fashola and Justice Olayinka, I am grossly disappointed.
How did you know it was a 'fake' result that was announced?
Thank God you were there and you saw the results on the table. On the day of the election, we had results from all the polling units. What they did was to instruct all officers presiding at the polling units to bring all the results to the local government for collation. They already knew they lost the election at the polling units. They lost throughout the local government. We won all the five wards. The field officers brought the results while the local government chairman and his people were upstairs.
While we were waiting for them to set up and collate the results, we realized they were thumb-printing ballot papers, trying to make up for what they had lost. Our people went in there and apprehended the ACN members thumb-printing the 500 ballot papers and handed them over to Suruj, the Area Commander. You would expect a fair-minded Area Commander to make an arrest, but up till tomorrow he had not made any arrest. Rather he used the RRS security outfit to smuggle the electoral officer out of the place. There were no returning officers, or electoral officers, the only people left there were the SPOs, who cannot collate results from wards and announce.
The result was left on the table since the electoral officer absconded, so who will now announce the result? Nobody! The most shocking was that the PRO of LASIEC (Lagos State Independent Electoral Commission) announced results that had not been collated and was still on the table. Lagos Television (LTV) and Television Continental (TVC) were scrolling the results that ACN had won. How could that be possible when those responsible for the result from the field were still in the local government with the results on the table? Later in the day the chairman countered it. You can see that this was a premeditated thing. They are all in sync – Fashola, Tinubu, RRS, and LASIEC.
Is this not the reality of politics and democracy you are also involved in?
Why do we call Lagos 'Centre of Excellence' if we are going to behave like others? Let me make a point, those of us who are core Lagos people are not into this type of politics, because we are all members of the same family. Look at Fashola, his family background, his family house and ours are not far from each other. Tinubu is the one corrupting all of us. We don't play politics with bitterness.
We recognize that we have something that binds all of us together, which is bigger than politics. But when you bring somebody, who is foreign to that set up, he doesn't have respect for what we cherish and protect. Despite our political differences you still see us flocking together. We set politics aside. But, to this man, who is alien to our system, everything is politics, even if it's going to destroy the family. There is no way Fashola and Olayinka would have done this, but this is what you have when people are not courageous enough to stand up to a dictator.
What next for your son, Jide Obanikoro?
We have not seen the end of this. I don't have confidence in the tribunal Tinubu has set up. My son has decided to go to the tribunal along with others. I won't stop them from going, but I don't have confidence in the tribunal. Let them go to the tribunal, but like I said, I don't have confidence in them. Look, let me tell you, the entire judiciary of Lagos State came here and part of our job was to receive them, but they refused our hospitality and did not visit the commission. When I spoke with one or two of them, they said they were afraid of Tinubu and Fashola. If they could be afraid over such matters, what do you think would happen at a tribunal? Tinubu does not believe in democracy. Do you know there has not been democracy in ACN since 1999?
Why are you indicting the police?
I was shot at; my son was also shot at. Policemen were there, but they did not make any arrest. They moved the APC they were using to protect us out and within five minutes hired thugs came in and started shooting.
Why is your son in politics?
It was not my decision, it was his. Jide is 30 years old; he can make up his mind. We have family business where we are all shareholders. We are into haulage, downstream sector, farming and real estate. And as a father, I support him.
What do you expect of Governor Fashola?
Well, if there is any hostage here, I think it is Governor Fashola. He is being held hostage by Tinubu and the whole Lagos knows this. I believe his conscience will prick him, but unfortunately, he is also a hostage.
What do you think of Asiwaju Tinubu?
I think those God wants to destroy He first make mad. That's the situation with him now. The process has begun. What he is doing is worse than what Abacha and IBB did. The only difference is that they were military dictators.
What do you think of Justice Olayinka?
To be honest with you, I am disappointed beyond comprehension. This man is supposed to be a Muslim and a retired judge of Lagos State. He is almost 70. What else is better for a man like that than to leave a legacy worthy of emulation? I still can't comprehend why a man like that would allow an evil-minded dictator use him.
You talk as if you and Tinubu will not do politics together again, why?
I am not interested in his type of politics. That was the reason I left him, to begin with. I don't play extreme politics. Moderation is the watchword for anything I do in life. I can't play his type of politics. I saw some extreme postures, greed and corruption, so I left. One man playing God! Look at the sand-filling going on at Ikoyi today, he is primarily behind most of them.
There is a lot of reclamation going on. I have it on good authority that the secretariat building of Eti-Osa has been sold. I understand he is moving them to Obalende. If you go to Senator Olajumoke's house and Chief Rasheed Gbadamosi's, those places used to be waterfront, now Tinubu has reclaimed the land. I wonder why someone like that still goes out without covering his face? How much does a man need to live a good life? I saw some of these things coming, that's why I left him.
Do you still talk to Demola Seriki?
Yes, if we have reason to talk, we do.
Do you feel let down by his going back to ACN?
Demola is my personal friend, so no comment. Those of us who are core Lagos people; despite our differences we still accommodate each other. We even like Fashola.
Do you talk with Fashola?
Fashola is my brother; I will continue to say this because we are from the same village in Lagos Island. If there is need, I will talk with him.
What about Tinubu?
I have lost every respect for him. Let me tell you, when IBB annulled the June 12 election results, he didn't go outside to write another result.
Would you contest in 2015?
Nobody is sure of being alive tomorrow, not to talk of 2015. People are saying this local government election is about 2015 and I laugh. It is God that crowns. Let me tell you, in 2007 Fashola and Tinubu were travelling to London in the same plane I was. We sat beside each other and I asked Fashola what next for him, and he said he was going back to his chamber. I told him I was contesting and I am sure I would win, but today, he is the governor. So, it is God that crowns, not any man. This is not about 2015.
What is the way out?
There were two polling booths in front of Tinubu's house, we won there. We also won at the police barrack near his house; that is to show how unpopular he is. The way forward is that good people like Wole Soyinka, Wole Olanipekun should speak out. There must not be selective justice. People like Wole Soyinka stands for the truth. This is one occasion he should speak out because there is hardly anybody that does not look up to Prof. Wole Soyinka. We cannot condemn injustice on one hand and embrace it on the other.