MY LOVE LIFE IS WONDERFUL.ACTRESS BHAIRA MCWIZU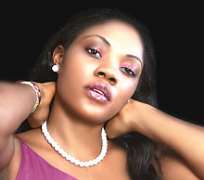 Bhaira Mcwizu is one of the characters in the Super Story series 'Evil Genius'. She believes that her best is yet to come, as she speaks on sundry issues with TOPE OLUKOLE in this interview.
Just as your acting career was blossoming, we heard about your foray into music; don't you think you are distracting yourself. Where do you really belong?
That is why I have God by my side and a wonderful management team and of course you have to plan because you cannot do two things at the same time, especially when it involves music and movies.
They are two great and demanding areas. So, I'm giving enough time to acting and more time to music and at the same time balancing the two of them. So, if you see the music part of me, I hope you enjoy it like I'm enjoying it and you will get to see that I will excel in both areas at the end of the day.
You are young, you work hard, and that has not taken away the excitement of youth life in you, what is that thing that takes your time off work?
I guess it's dancing; dancing and shopping. I can't get enough of dancing because I love to dance anyway. I like to shop too; I like to see beautiful scenery around me, travel. Yes, I will like to do all these things because they keep my mind busy.
So, how is your love life?
My love life is wonderful.
So, tell us about it?
Absolutely no, it's private anyway.
Okay, what's freaking you now?
It has always been my career, doing what I love to do best. I'm living my dreams of course, it makes me happy every day.
You seem to be closer to O.C Ukeje that it has sparked a romance rumour in a section of the media?
I don't know what the rumour is all about. O.C is my big brother, he came to AMBO before me. Yes, we go to events together, different strokes for different folks. Some like it hot, some like it cold.
People would say whatever they want to say, it's a free world, so, I can't be bothered.
You've always been a good girl, so why are you hiding your relationship.
I'm not hiding my relationship; I'm not just talking about it.
What will you say has changed about you after shooting Evil Genius with Wale Adenuga's production?
First of all, I will like to say I'm exhausted in the sense that I gave it my all and any good actress will know that when you are on set you deliver and after that you look back and say I have done a good job and that is the way I felt. Of course, there are things that can be improved upon, yes, but on my side, I know that I have done a good job.
What would this Super story do to you and if you were given a chance to speak about your encounter with Wale Adenuga, what will you say he has done for your career?
Wale Adenuga is a genius and May God bless him and as he says, "we are pencils in the hand of our creator." I think God directed me to his path and he has helped me to shape my destiny. He has made me a better person because anybody who has seen this season of Super Story would see that Amstel Malta have not made any mistake choosing me as the winner because frankly speaking, Adenuga brought out those elements in me that even AMBO House didn't see in me.
You mean Super story brought out the best that even Cindy's Note director didn't see in you?
Well, yes in a sort of way, because Izu Ojukwu saw me in a different light and now my Super story director, Sunday Adebambo, looked at me differently. So, Super Story kind of stretched me to the limit.
How did you meet Wale Adenuga?
Well, he called me and asked if I was going to be available in the next two months and I said yes and I asked him what was going to happen and he said he has something he wanted to give to me and I didn't think about it twice and I said, "If you want a whole year, I'm going to give it to you, sir."
Have you had cause to handle or give in to true emotion on set?
Well, if I have to kiss, I kiss. During my shoots, it's not Bhaira anymore, it's my character. So, if I'm loving that person in the script, I'm loving that person as my character demands and if I'm hating that person, I'm hating him to death as expected of my character and when the light goes off, I get back to my real self and we'll begin to laugh and doing things normally. But during that period of acting, we are not ourselves. So, on set, if we are in love, we are in love.
Don't you think that real affection could come out of that romantic scene?
No, that's crazy. It's so unprofessional. If you are working, you better be working 100 per cent. I'm supposed to be acting and that's all I do.
If you had not won AMBO would you have pursued your dream to be an entertainer this far?
Yes, absolutely. I actually started out with the MUSON's School of Music. I was pursuing that so hard and then I was called up to do a stage play and it was well received. The next thing I saw was an AMBO billboard staring at me in the face and before I knew it, I was in the AMBO House. My focus was always and entirely on music not even acting. I have always been entertainment-inclined.
Can you share your experience on the set of M-Net's Tinsel?
My publicist called me and said the producers of Tinsel have an audition for me to attend. I went. A week later I was called and they said I've got a job and that I have to come to their office for the final audition, and from there I was picked.
What about your role in Tinsel?
Yeah, I'm a regular cast, I'm the family doctor. Occasionally, someone is poisoned or lose a baby so they always need me.
The environment, how would you compare it to the Nigerian working environment?
The first time I was amazed by the level of professionalism. It was like working in a studio in Hollywood as an actor or actress. On that set, you are required to act and nobody is expected to distract you.
You are given such room to operate. I have all the time to concentrate and bring out the best in me. It gave me hope that things are going to get better in Nigeria. It's good, its an eye-opener for me.
The studio is awesome, the cameras, the cast and crew, very perfect. I see a brighter day for the Nigeria's Movie and Television Production.