Our encounter with armed robbers —Nollywood star actors, Aki and Pawpaw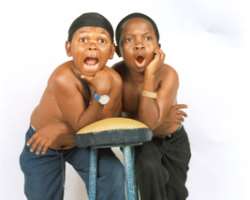 Chinedu Ikedieze and Osita Iheme are unarguably two of the most popular faces to have come out of Nollywood, the nation's motion picture industry, in recent times. The pint-sized role interpreters, who are famously known as Aki and Pawpaw by their teeming fans, are still waxing stronger and winning more fans base, even beyond our borders, despite the lull in tinsel town.
They recently visited the head office of The Sun and happily fielded questions from senior editors and reporters.
While the interview, which lasted for close to two hours, was on, the duo, who met on a movie location and became friends instantly, spoke on a wide range of issues, from politics to good governance, investments, endorsements, their hidden love lives, families, fame, money as well as several others.
Though they tried dodging some of the questions, as hard as they tried, nothing was left untouched, while the very revealing and some times ribs cracking interview progressed. Enjoy the duo in what could be referred to as their mini biography. Ever heard about their encounter with armed robbers?
We would like you to introduce yourselves and tell us how you came into this business.
Osita: I am Osita Iheme. They call me Pawpaw. I came into this business long time ago, in fact, 2001. Before then, I was doing little drama in my church. So, from there, I picked the interest and found myself on TV. From there, I started acting in movies. I got my first audition in 2001, February 9. So, that was how I started. Since then, God has been doing a great work.
I am always confused whether to describe you as a boy or a man. What should I describe you as?
Osita: I am a young man.
How about the schools you attended?
Osita: I attended my schools in Aba, Abia State, where I was born. I grew up in Aba too. But I am from Imo State, Mbaitoli, to be precise.
Chinedu: I am from Abia State. Uzuakoli, precisely.
How come? Is your father small or mother small?
Osita: No. I am the only person.
So, what happened?
Osita: I should be asking God.
Have you ever tried asking God, actually?
Osita: No, no. I don't ask God because He has already done it. I don't need to ask again. What I need to ask Him is, 'empower me!' That is all.
Did you go through discrimination of any sort as a young person?
Osita: Not at all. I don't accept that. It is when you accept something that it influences you. I don't accept and I don't believe it. I don't have any kind of discriminations. Rather, I will discriminate against people.
When did you discover yourself?
Osita: Well, I had been doing something in my church. I was brought up in a Christian family. From there, I knew there was something in me that I needed to exhibit. I knew that I needed to show it off. I discovered I have this talent: Acting.
Did you go through secondary school?
Osita: Yes. I went through secondary school. I studied Mass Communication
After secondary school, what next?
Osita: After secondary school, I found myself in acting. I found myself in the industry, Nollywood, which is the Actors Guild of Nigeria. That is the industry.
That will make us to be looking at how old you are really?
Osita: Okay now, you can check it.
Is your age secret or something?
Osita: It is not secret. It is on the Internet. It is in my profile. It is also in my passport.
So, tell us?
Osita: As I told you, I am a young man.
How young is young?
Osita: Very, very young.
Married or single?
Osita: No, still single.
Why are you not married?
Osita: I will still marry. But now, I am not married.
So, you are still planning to marry?
Osita: Yes, of course.
When did you hit it big time?
Osita: In 2003.
What happened?
Osita: I shot a movie together with Chinedu, in 2002. And that was Aki na Ukwa. That was the movie that launched me into limelight.
How did you meet Chinedu?
Osita: We met at a location, where I came to shoot a movie. He was there also to do his own thing. So, we met. We shook hands and discovered ourselves.
Now, let's turn to your friend, Chinedu, for some questions too
Chinedu: As I said earlier, I am from Uzuakoli. I don't know how conversant you are with Uzuakoli. Chinedu is my name. I am a graduate of Mass Communication, from the Institute of Management and Technology (IMT), Enugu. I equally have a Diploma from New York Film Academy. In fact, we both have the diploma, Osita and I. And in my HND, I made Upper Credit, that's 2-1.
That means your head is hot?
Chinedu: I don't know. Maybe if you touch it, you will feel it.
Who did you inherit this size from?
Chinedu: I don't know. I don't know. My parents are not short. I think they are a little bit above average, in terms of heights. When I was a few years below 10, my mum took me to hospital, Uzuakoli General Hospital. I think that was when she started noticing my stunted growth. After all the medical checks, they found nothing. Somehow, they wanted to attach it to genetics and they tried to trace it. My grandfather was the tallest. He was like seven feet nine. If you see my younger ones, hah, if you see them, you will think they are my elder brothers. It is not spiritual. It is something of its own. And you can't question the Almighty. I think, I am a unique person.
What are the advantages and the disadvantages you went through?
The advantages are many.
Let's start with the disadvantages.
I don't think there are any disadvantages. Because if there was one, I would have, maybe, some day questioned the authority of God. Ask Him why? But I don't think so. When I was growing up, I was physically strong. Then I used to be in charge of my age-mates. And one thing with me, I never grew up or mixed up with my age mates. I can remember vividly, all my friends were like four, five, six, seven years older than me.
When they come around me, I dictate the tune of the event. I dictate the tune of whatever we do. Just like that. I have never seen myself as a small boy because I have never thought small. I think big. When I was 10, I thought like 16, 17 and 20-year-old person. That is why I say there is no demerit. May be, from your perception, you may see me as a small person. But within me, I am huge. I am large. Maybe, adult mind in a young body.
You were going to talk about the advantages.
Chinedu: Yeah, as I said, the advantages far more outweigh the disadvantages, if at all, there is any disadvantage. I used the word, unique. Even while I was growing up, I was loved by all. My family and my parents love me so much. Whatever thing I do, I do it exceptionally. I make sure I implore some difference. Wherever I go, people will always want to identify with me. They want to know me. When I was a teenager, I dressed in such a way that when you passed me, there must be something to make you look twice. Then, when my mother took us to some places, the first person people notice was I. They would say: 'Ah, I like this your son.' You see why I said the advantages are numerous.
You never had a situation where somebody treated you as though you were 10?
Chinedu: No. Maybe if they do, they do it accidentally. You might be walking and somebody steps on you. And they say, 'Oh, I am sorry.' So, whatever happens, happens accidentally. Nobody in his or her right senses can come to me and start molesting me, because, I have never been intimidated. I don't allow that.
At what point did you start taking your size to be of advantage?
Chinedu: Right from when I figured out that my younger brother was taller than me. Right from when I was like 10 or 12; because of that, I established it in my mind that whatever thing I do, I must let him know that I am the senior. That kind of mentality.
Your friend's age is a mystery. Is your own age a mystery too?
Chinedu: My age? You have heard me talk. I think I am an adult.
When did you finish your HND?
Chinedu: In 2002.
That should be seven years ago?
Chinedu: Yeah.
Did you go for the NYSC?
Chinedu: Of course, yes, in Enugu. I served with the Ministry of Arts and Culture. If you go there and ask after me, they will finish the story for you.
What brought the two of you together?
Chinedu: As he said, we met in Enugu, where he came to shoot a movie. Then, I was still an undergraduate, though, I started before him. I started in 1998. People usually mistake me for him. He was living in Aba. And I usually go to Aba to spend my holidays. In some occasions like that, I went to the market and, they started calling me Osita. I came back home and I told some of my neighbours. And they said, yes, there is this guy called Osita. They also saw Osita and were calling him my name. It was like a synergy on its own. I decided to meet this person.' And he too, wanted to meet me. So, when we met, it was like a scene of its own. We exchanged pleasantries. And somebody, somewhere, saw beyond what the other people could not see. He wrote a script and a few months later, we came and shot the movie, Aki na Ukwa!
How do you cope with women? I presume a lot of women are running after you?
Chinedu: As I always say, we share this symbiotic relationship. They are like the guys. I mean, there is nothing hidden. They appreciate us and, we acknowledge it. That's all.
They say these things go together: money, power and women, You tell us about how you cope with women?
Osita: As he said, they appreciate us and we acknowledge them.
What do you people mean by appreciate us?
Osita: You said we are popular. The women appreciate all these things.
Do they just go ahead to tell you that you are popular?
Osita: No, you have fans. When you say women, okay, let me say a lot of women, a lot of guys are our fans too. So, when they come around, you can't chase them away.
But have you found somebody that you can stick to?
Osita: No. That is if you are talking about marriage. Then, you could find somebody that you can stick to. Right now, no, I am not yet married. I am not searching either.
Are you in a relationship with somebody?
Osita: God said when you want to marry He will direct you. When I am ready, I will ask God. And God will surely direct me.
Chinedu: The same thing applies to me.
But you proposed to a lady at a party, a few years ago?
Chinedu: No, I did not propose to a lady. It wasn't an engagement party. Azuh, you were there. I have the video. I had a birthday. I was to travel to the US on December 16, 2006. My birthday was 12am on the 12th day of the 12th month. I wanted to celebrate my birthday along with my girlfriend. She was equally born in December. So, instead of me travelling and coming back to celebrate my birthday, because I had some things to do in the US, I said okay, it was better I did it with her. I invited him to come and celebrate with me. But I'm surprised that the whole story was changed in the media.
But the two of you were exchanging kisses at the bash?
Chinedu: I kissed my girl and so…
Where is she now?
Chinedu: She is fine.
Are you still dating?
Chinedu: Let me be (he answered in Igbo)
Seriously speaking, when are you people planning to get married?
Osita: Whenever he is ready.
Chinedu: Yes, sir, we are big. Any time we want to marry, The Sun will know.
So, marriage is not yet on the cards?
Chinedu: As we said, any time we want to marry, we will let you know. You will be cordially invited.
What happened when you went to the US in 2006?
Chinedu: I felt I had over-worked myself, so I needed to go and rest. I went there for vacation and at the same time, the Naija community in the US decided to award and honour us. We were given the awards of the best actors, in recognition of our contributions to Nollywood and Nigeria in general.
Do they watch you guys over there?
Chinedu: Of course, they watch us a lot.
Who particularly watch your movies?
Chinedu: All over. Nigerians, Africans, US and even beyond the US. You know, the Virgin Islands surrounding the Caribbean. They watch our movies a lot. In Europe also. Even in Asia.
Is it just the Blacks?
Chinedu: Initially, it started with the Blacks. Now, it has surged beyond the Blacks.
What do they like about it?
Chinedu: The movie and our stories. The way we interpret our roles. Our acting prowess! Our unique style.
Do you quarrel, both of you?
Chinedu: Do both of you quarrel? (Referring to Messrs. Dimgba Igwe and Femi Adesina).
Who is the oga between the two of you?
Chinedu: We are adults.
We are adults too, but I am the oga (said Dimgba Igwe).
Osita: Your case is different.
What makes my case different?
Chinedu: Because your office has a hierarchy. Ours don't have a hierarchy.
In Nollywood, what has been your experience?
Chinedu: Well a lot.
Are you fulfilled or satisfied with the way Nollywood has gone?
Chinedu: Well, I think I will say I am a little bit satisfied. I am satisfied, in the sense that Nollywood is just how many years old? And look at the feat we have been able to achieve. South Africa has been doing movies all this while. I remember when Sarafina was shot. That was so many years ago. Ghana was even doing movies before us. And some other countries in Africa. But today, the identity of Africa can only be defined through Nollywood industry. So, Nollywood industry has become a medium through which Africa's voice could be heard. With that, I am satisfied.
But when I said I am not too satisfied, it's because the government has not deemed it fit to invest in the industry. This is a big industry. In terms of our Gross Domestic Products in Nigeria, the Nollywood industry comes at least, third. Averagely, they make over 150 million dollars from Nollywood every year. Still, the government has never discussed it, except recently. They never took it upon themselves to seek for ways to enhance this small product that they don't know. But other parts of the world know about it. So, it is very unfortunate.
We are having a little problem now; I am not too satisfied about that. I think we are having too many factions in the industry. If it is like that, it will never help us grow. I remember one philosopher, Leo Testroy. He said everybody thinks of changing humanity, nobody thinks of changing himself. Equally, as we are talking about re-branding Nigeria, you can't do that if you don't rebrand Nollywood first. Because that is the only eye with which other parts of the world could see Africa. Yeah, I am telling you the truth. We were in the Caribbean Island; we went to one remand home; there were so many Blacks there. So many young boys and teenagers.
They asked us to just give them words of encouragement. You know one question one of the boys asked us? He said, is it true that Africans live on trees? Those movies we do, like the buildings, are they library shots? Imagine what a boy of 14 or 15 could ask! So, that is to tell you that a lot of them see us through the movies and the lies they read about us.
Yes, the New World International Order, where they get information from, like, Associated Press and Reuters, they have never got any information from Nigeria to give to the world. Instead, they take the information from where they want it. And we take information from them. We don't take it even directly. It is like third degree information. And it is not helping us. So, whatever thing they tell the outside world, that is what they believe about Africa. I could even remember the way they presented the issue that happened in Zimbabwe. I was in Zimbabwe. The security men that guarded me throughout my stay were the people who equally guarded the president. They told me a lot of things, which I waited to see, one day, if CNN could say a little bit, maybe one out of it. But they never said so. It has always been like that. That is why this problem continues to be what it is today.
What did they tell you about Zimbabwe?
Chinedu: We know that Zimbabwe is part of the Southern Africa that is blessed with mineral resources. And these people came, even though, they colonized them. It is just that they were wiser. They used everything Zimbabweans had to enrich themselves. Not just themselves, enrich their countries. When we were driving from Zimbabwe's capital city to where they call Bulawayo, they told us they had so much mineral resources. I came to understand that during those days, the whites came in the disguise that they were farmers and just built factories and told people they would refine some agricultural products there. Within that same place, they are digging gold.
They were digging diamonds. So, these people were wise enough to understand that. And that was where the misunderstanding came in. It was very unfortunate, because, they refused to train indigenous Zimbabweans; they were just using them as mere servants. That was why when they left the business, it was hard for Zimbabweans to continue; to start from where they stopped.
What do you really want government to do in Nollywood?
Chinedu: In America, before some group of people teamed up to establish Universal Studios and the rest, the government was really helping them. Let me tell you something. Do you know that we cannot go to the airport to shoot? That's not easy. Do you know how much they charge us? Just to shoot for 10 or 20 minutes. They charge nothing less than N500, 000. Is that supposed to be so?
Official or what?
Chinedu: Official. You go to Abuja, you can't come near Aso Rock. Do you know the face of Aso Rock? We don't know. But we watch White House everyday. There are some places you will shoot. When you need police uniform, they will refuse to give you. When you tell them that you need DPO or some other officers to come around, they don't. They expect you to pay some huge sum of money. It is not supposed to be like this. When I mentioned government, I mean, it is vast. It is not just the central government, but both the local and federal; all levels of government. So, it is like that. I am just giving you a tip of the iceberg. Government can be stakeholders in this. If government brings money and says okay, do a movie about this, you will see the impact. For you to do a movie now on some of the things our past leaders did, if you take it to the censor's board, they will ask you to remove some things or they seize it. It is not supposed to be like that. In America, they do movies about oil. They do movies about a lot of things that happen in America. They do movies in White House. But you can't do these things here. Even if you try to satirize your government, it becomes a problem. So, you see the government, they are not helping matters. I am sorry to say this.
Have you ever thought of telling the Minister of Information this?
Chinedu: Yeah. The last time we met, I think we laid down these problems.
What did she say?
Chinedu: She said, she would try her best.
Osita: She said what government always says.
What is your take on Nollywood?
Osita: Do you know why we keep mentioning government? Let me just chip in this, apart from what he said about them. Apart from Nollywood, government has truly disappointed Nigerians. We don't have light. We need light to make movies. We complain of the poor quality of our movies, it is because of light. If you put generator here, everywhere will be noisy and that affects the sound of our movies. We need light. We need facilities. We go to people's houses, pay them, for us to use their houses to make a movie. But government can provide these things for us. We can pay them. There should be film village. They can provide all these things for us, so that we don't need to be disturbing people.
What of Tinapa?
Osita: There is nothing in Tinapa. Go there now. You will see that they have not finished Tinapa. Nothing is happening there. So, government has not been really grateful to the entertainment industry. And the other thing is piracy. We have NCC, the body that is in charge of piracy; but they are not doing anything. We produce the work and people pirate it. We produce films always and our actors keep suffering while your work is out there and another person is making millions with your money. And government has people who are working on these things. But they are not doing their work properly. So, all these things are affecting the industry.
These are some of the things that government is supposed to do for the entertainment industry.
As he said, they can be stakeholders in the industry, whereby they support. They can make money from it. Look at our National Arts Theatre today; nothing is going on there. We don't have where young artistes can practicse. We don't have structures that can help us empower Nollywood. All these things we are doing, are for ourselves. Where we have got so far, are our individual efforts, not government.
We were talking about your impression of Nollywood?
Osita: We have been trying. But we still need to forge ahead. As he said, we have a lot of factions in the industry. We have these people; we have that people. We are not together. There is no unity because we don't have one body that is called Nollywood. That is the major problem we are having in the industry now. If we can come together and say this is Nollywood, that will be fine. So, that if you mention Nollywood, these people can go and represent us as one body. Not producers, going for their own case and directors and actors going for their own interests too.
These are the issues affecting us right now. When you have one body, they speak with one mind and voice. But right now, producers will speak differently from directors. And we the artistes are ambassadors of Nigeria in Nollywood; when we go outside, we talk good about Nollywood. But when all those people visit Nigeria, they will see that a lot of things we told them are not what is going on here. So, it is not good. It is affecting our message out there.
Isn't that a problem, that you cannot even put your house in order?
Osita: Yeah. If the government can come in, they can also help us get our act together.
Do you think women love you because of your money?
Osita: Women? I don't understand. You can never say somebody likes you because of money. I know that I have fans who love my works and not because of my money.
When you started in Nollywood, what was the fee like?
Osita: The fee started with N6, 000. It was my first movie, Cold Blood. Then, it was big money for me. From then, I started moving to hundred, two hundred, three hundred, one million, N1.5 million. I kept moving, you know. It varies. It depends on the relationship you have with anybody that is contracting you.
Should we then say you are comfortable?
Osita: Yeah. I am comfortable.
Very rich?
Osita: I am comfortable. I am able to take care of my needs and self.
There is a kind of burst they said Nollywood is going through. How is it affecting you?
Osita: That is exactly what I am saying. It is affecting us because, sometimes, when you go out there, to talk something about Nollywood, people come back to say that there are many problems in Nollywood. It is affecting us because our fans are yearning to see more of our works, but they don't know that our home is on fire. Something has been withholding some of the works we have been doing. We need to pass a message and we have not reached where we are going in Nollywood. So, if we start fighting now, I don't think it will help us to forge ahead.
What do you do with the money you have been making?
Osita: We do a lot of things with it. We also have a foundation, where we put our money. It is called Aki and Pawpaw Child Care Foundation. We take care of the underprivileged kids.
Teach us how to manage money?
Osita: We are different individuals. People have many different ways they can manage their money. Depending on what they like and what they don't. Some people have taste for cars. They can buy as many as 30 cars, after building their house. It depends.
How many cars do you have?
Osita: Actually, if I tell you I don't have, you will not believe it. So, the issue of the car is not the problem. I can tell you to keep the money very well, go into properties, you know, investments. My own experience is going into shares, properties, and a lot of things. We also put our money into helping people. Because the best investment you can do is investing in human beings.
Were you affected by the crash of the stock market?
Osita: Yes, of course. I was affected.
Who made you invest in it?
Osita: Nobody, I invested myself. I don't need somebody to take us to the stock market.
How much did you lose?
Osita: Don't worry. You are not going to pay me. If you were going to pay me, I would tell you how much I lost.
Chinedu: It was very unfortunate. Actually, it affected a lot of people, including me, and him too. Every business is a risk, even our lives. We keep walking and working. So, that is the thing. As he said, I'll advise whoever that has made some money to invest properly. I invested into real estate, shares and the human investments. I think I have like four graduates in my house. And I trained all of them, plus other people, nieces, cousins and some other people from my community. I am the first son. I used to have four brothers, but I lost one on May 31, this year.
What happened?
Chinedu: I don't know. They said brief illness. What you asked was exactly what I asked when they called me that he was dead. I was in South Africa. It was very unfortunate. He was the last-born and the last boy. In fact, we travelled on the 27th. Two days before then, he called me to say that he was having headache. I advised him to meet our family doctor. And the next day, I sent him some money. That was it. Until May 31, we were talking. They called me. That was it. He was approaching 20.
Your parents are back home in the East?
Chinedu: Yeah. They live in Aba.
What have you done for them?
Chinedu: A lot
Like?
Chinedu: What do you expect me to do for them?
Did you buy them a car?
Chinedu: They are comfortable.
You did not buy them a car or build them a house?
Chinedu: They never said so.
Must they say so before you do it for them?
Chinedu: They never complained that they don't have a car.
Who are your parents?
Chinedu: Mr. and Mrs. Ikedieze Ogbonnaya
What does Mr. Ogbonnaya do?
Chinedu: He is a businessman based in Aba and deals in stationery.
What values did you take from your father?
Chinedu: I am happy I have parents like them. They inculcated this discipline in me. They made me understand I should value my norms of the society. From them, I got to understand that culture is very unique. When I see my elder, I should greet them. And when I see a pen falls down, I should pick it up and give to my elder. I should respect my elders and even age mates. I grew up with them. I internalized everything they said. Whatever thing I do, not minding my size, if I go out of tune, my mother will smack me then. And those things helped me a lot. So, they never pampered me because I was the smallest or something like that. They never gave me that opportunity. If I made a mistake, they beat me and I loved that. Now, I have come to remember that. If they hadn't done that, may be now, it would have affected me. That is why I can take care of them. My parents can count on me. That is it. They inculcated discipline in me.
What about your mother?
Chinedu: The same applies to her. She was into confectioneries before she changed.
What about your parents?
Osita: My father is dead. He died in 1990.
What is your memory of him?
Osita: I was too small when he died. I didn't stay too close to him a lot, because I was small when he died. He was a great father. He taught me how to be a good boy.
So, you were really brought up by your mother?
Osita: Yes. After our father died. My mum was doing it all by herself. You know what it is without a husband. But she made sure that all of us became somebody. We are five. I am the last.
That is to say that your mother is a little bit old?
Osita: Yeah. She is 60 something.
What have you done for her that makes you glad?
Osita: Anything she needs, I make sure I do it for her.
You know at 60 something your mother will be looking for a grand child?
Osita: Yeah. She has a grandchild, but not from me. Of course, she will get it.
How soon?
Osita: Soon. By God's grace!
Chinedu, as the first son, won't your parents be looking up to you for a grandchild?
Chinedu: They are not complaining. I am a guy, you know. I have a sister who will give them a grandchild.
You are from Uzuakoli, and you know what a grandchild means to us.
Chinedu: My mother has a grandchild.
I mean one from you.
Chinedu: There is no problem. I said when the time comes, you will know. I can call you tomorrow and say, 'You see, my mother just had a grand child.' Well, that is the thing. I think we were talking about what values they were able to inculcate in us. If we were not too responsible, I don't think a cellular phone manufacturing company in South Africa will just see us and then decide to partner us. Last time we went to South Africa, we were just walking and, I think they saw the huge followership. And they inquired about us. They went through our status and they found out that, yes, they could deal with these people. If we had had poor upbringing, I think that somehow, it would have been affecting us. If you look round the industry, some of them who had poor upbringing, it is really affecting them. Today, we are doing something with AG Cellular Phone. It is an indigenous phone manufacturing company in South Africa, owned by a Jewish South African.
They are using Aki and Pawpaw pre-loaded contents in their phones. So, it is going to be AG Cellular-Aki-and-Pawpaw range. They are going to have like three, four ranges of phones, which will have our copyrighted videos, the ones we invented, not from any film, our pictures as their wall papers and our voices as their ring tones. So, very soon it is going to hit the Nigeria market. By the grace of God, this September, we will be launching it in Nigeria.
Do you have any brand you represent in Nigeria?
Chinedu: Yeah. OK Foods. We even did Apple 3 in Ghana. We have another one we will endorse soonest. When we finish whatever is binding, we will let you know.
Managing popularity is a bit of a challenge. How are you managing your brand?
Chinedu: We have a team, a management team. I think they are doing the work responsibly well.
Osita: Still on the values you were asking of. Because we have good upbringing, we understand each other. We have management that also helps us keep the brand together.
If I want you to endorse my brand, what does it take?
Osita: It depends on the kind of brand you want us to endorse.
The Sun, for instance?
Osita: The Sun! Then we will discuss that.
Do you pay us or we will pay you?
Osita: No. You will pay me.
The deal with AG Cellular, how much is it worth?
Chinedu: It is big.
Osita: Yeah. It is big. We can't really say exactly.
Stars do disclose the worth of their deals?
Osita: Their deal is different from our deal. They have a particular price that their deal is worth. But our own is different.
Chinedu: Ours come monthly.
Osita: It comes monthly and we are into partnership with AG Cellular. So, whatever comes…
Chinedu: …we have a percentage.
Do you live together in the same house?
Osita: Yes, we live together.
Do you own the house?
Osita: Yeah. We own the house.
Is it in Lagos here?
Chinedu: Before the end of next month, we will be through with the papers.
Several adult Nigerians are facing a lot of problems in the country.
Osita: Like?
Like Boko Haram! So, what is your take on what happened in the North?
Chinedu: If you ask me, I think I would say, I thought Nigeria…if you want to measure our academic values, we were 65-67 per cent higher. But with what just happened, I think we are like 40 something per cent lower. Yeah! I mean, I can't understand. I don't know whether it was premeditated by their religious beliefs or what. I mean, how on earth can a group of people say that women should not get any education. In fact, that they don't need even western education; that it is not useful to them. And we are still living in the same port we call a country. It is too appalling, honestly.
What is your view on what is happening in your part of the country? The kidnapping?
Chinedu, when last did you visit home? You are