ENTREPRENEUR CALLS FOR PATENTING OF INDIGENOUS MEDICINE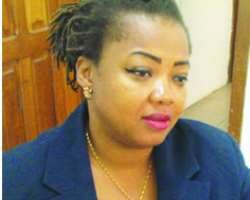 Ilori
Managing Director and Chief Executive Officer, Kellow West Africa Nigeria limited, Olukemi Ilori, has said there has not been a concerted effort on government at all levels and policy makers to formulate laws, policies and regulation to adequately protect patenting in herbal medicine.
Ilori who described the field as an area that requires multidisciplinary approach, saidthat until patenting is given a backbone, indigenous knowledge and native resources will continue to be stolen and ferried to other shores.
Speaking on the relevance of integrating the orthodox and traditional medicine in healthcare delivery, there should be synergy between the two because we're exposed to the two.
She spoke more on Kellow Health and Lifestyle Goods and Services Trade Fair and other issues bordering on natural healthcare delivery system.
Need to preserve knowledge of Alternative medicine practice
I organize the trade promotion fair for health and lifestyle services every year. We're in the eighth year now. We do it in the third week of October every year. The fair is aimed at promoting health and lifestyle goods with a special target of promoting made in Nigeria goods and enabling them to interact with other people in that line of business, improve their products, upgrade the indigenous technology here, especially in the area of alternative medicine.
As a pharmacognostist, it's of special interest to me because of the loss of the knowledge, which is a threat that has faced us prominently, more and more in recent years, as people are leaving the family traditions of healing and working in the cities. We can at least retain that knowledge even if they're not doing those things, I mean looking at the science side of it.
Vision
Maybe, its because of my ancestry. But, I've always had strong entrepreneurial spirit. And I've always been a very curious person. So, it's a marriage between my entrepreneurial and my intellectual interest.
Setbacks in patenting herbal medicine
To the best of my knowledge, there hasn't been much done in that area. It's an area that requires multidisciplinary approach. You need lawyers who are vast in international law as well as the knowledge of our own local peculiarities as well. If indigenous knowledge is not patented it will be lost, period. That is because, people are reluctant to divulge information, which they believe, is power, and which if they give out, somebody else will take advantage of and they get nothing for it. And when such knowledge is lost, it's lost to humanity.
So, for us to be able to retain a lot of that knowledge, we have to make people feel that they get something for their knowledge. Their knowledge will not just be stolen from them without them being recognized for it because it took a lot for them to get to the point where they got to know that this thing can be used for that.
The way forward is that government at both the state and federal level should have laws that help to patent indigenous knowledge. We have been patenting already. We have patenting in things like goods and things like that. But for patenting of indigenous knowledge, to the best of my own knowledge, is virtually non-existent. For instance, we have people taking things from Nigeria - herbs, exporting them when they know they have the need.. Like for sickle cell anaemia, the case of Zantozylos, Atiloidis, it used. These things need to be patented, this knowledge is not just taken away and people get disenfranchised.
The fair in health and lifestyle goods and services
The health and lifestyle sector is a very unique one because global trade in the health and lifestyle sector runs to trillions of dollars. It's a huge economic volume. In some countries like China, they even have their own chamber of commerce. They're not just referred to as a sector but have their own chamber of commerce. So, it's an area where trade impacts on the economy and also impacts on the disease burden, the health of the people. So, it's a very, very unique area.
Trade promotion in the health and lifestyle area involves services also because the people who render services in the health sector are highly skilled people. It takes a long time for them to be trained and when they train and acquire the skill, they are people who are very much sought after in all societies because they help the work force of the society to be able to perform as they get older. You know that we have a lot of our trained skilled personnel going outside - nurses, physiotherapists, and pharmacists. So, it's an area of high skill. Even the alternative medicine practitioners, like bonesetters and all that. So, it's a highly skilled area.
There is also, the area of health tourism in the health and lifestyle sector, especially the services. Nigeria now has a lot of people from neighbouring countries coming for treatment. And its not recorded. That is also very important - the health tourism of health and lifestyle sector is very important.
Impact and goal
The impact we have made is that we have been able to bring together, people of different specializations in the sector to sit down and network for growth. We've been able to identify areas of problems, we've been able to resolve some of these problem and we've been able to bring together, strategic agencies that are important in that sector. And we've been able to exact a positive and critical influence by creating a platform for the operators and the regulators to communicate and look for ways of solving problems. Our trade fair has become a critical convergence for them.
Specifically, in the immediate future, we're looking at taking the fair to the sub-region. To export our trade promotion services by taking Nigerian goods in this sector to the sub-region. We're looking at an initial three-country tour in the sub-region. And in the future, we're looking at going to other places and taking Nigeria products there.