STOP EXTRA JUDICIAL KILLINGS IN NIGERIA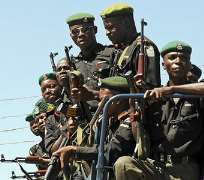 Incidence of extra Judicial killings perpetrated by the law enforcement officers continue unabated in Nigeria; it is taking a worrisome dimension that should be of concern to Nigerian government, international communities, civil societies, and all lovers of rule of law and human dignity.
On Thursday, October 20, 2011,a Police officer reportedly shot a lady, Tayo Abe, dead, and fled. (Nigerian Tribune, October 21, 2011). The incident happened on the deceased farm in Ido-Ekiti, Ekiti State. From the account of the deceased family member, the police officer shot the deceased person and her sibling when they caught and challenged the police officer for stealing their corn.
In another but similar development, a twenty six year old man, Victor Emmanuel, was gruesomely gunned down by policemen in Yenagoa, Bayelsa State (home state of President Goodluck Jonathan), on circumstances bordering on police extortion. The harmless young man who was on his way from church, was pursued and gunned down at a very close range, in the presence of his helpless mother (Punch, October 21, 2011).
Cases of this nature have become commonplace in Nigeria; the policemen who are suppose to be the protectors of the citizens have become a menace, and oppressors to the harmless citizens from whose tax money they are paid.
Extra judicial killing is a grave abuse of Rule of law and human dignity which are the core of fundamental human rights; It should be strongly condemned and denied a place in any sane society, especially where democratic governance is practised, such as Nigeria. It thrives where its occurrence receives non or inadequate response from government, and failure to address the root causes and bring perpetrators to justice. Necessarily, a proactive mechanism must be devised to arrest this ugly trend.
Regrettably, culpability on the part of the Nigerian government could be seen from the government's attitude to many unresolved cases of extra judicial killings, violence, police condition of service, and general lawlessness in the country.
Nigeria as a State party to the International Covenant on Civil and Political Rights (ICCPR), has a responsibility to take appropriate actions as recommended by Human Rights Committee of the United Nations on 1 December 2003. The Committee recommends that government should ensure that adequate measures are taken in investigating crimes allegedly committed by State security forces and agents, and ensure that perpetrators are brought to justice. Failure to take adequate action in line with the recommendation of the Human Rights Committee of United Nations, and against the unlawful killings themselves, would clearly be depriving Nigerians of their right to life, and continually make the citizens to live in perpetual fear and terror of the law enforcement officers who are paid to be their protectors.
Accordingly, we call on President Goodluck Jonathan, the Minister of Police Affairs, Inspector General of Police and the National Assembly to urgently look into the cases of wanton killings by the law enforcement officers, especially, the recent cases of Tayo Abe and Victor Emmanuel. No stone must be left unturned to ensure that the perpetrators are brought to book.
Furthermore, we recommend that:
1. Full investigations and judicial inquiries must follow without delay, with a view to holding the perpetrators fully accountable for their crimes and making clear that this pattern of killings will not be allowed to continue.
2. Law enforcement officers must go through a thorough and effective training on fundamental human rights with emphasis on Rule of Law and Human Dignity.
3. The National Human Rights Commission of Nigeria must play a more active role by coordinating its work with the law enforcement agencies in Nigeria to ensuring that people's fundamental rights are respected and protected, and not only wait to react after the rights have been breached.
Written by Adebanji Dada, Executive Director, Advocate of Rule of Law & Human Dignity.
Disclaimer:

"The views/contents expressed in this article are the sole responsibility of

thewillnigeria.com

and do not necessarily reflect those of The Nigerian Voice. The Nigerian Voice will not be responsible or liable for any inaccurate or incorrect statements contained in this article."
Articles by thewillnigeria.com