My Aim Is To Redefine Romantic Movies -Jaye Kuti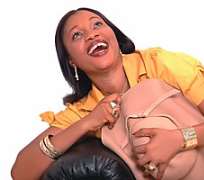 Jaye Kuti is an actress, who has been visible in series and soaps on TV stations in Nigeria. The mother of two, in this interview with Tunde Ayanda, speaks on her new work and her mission to change the face of romantic films in Nigeria. Excerpts:
You are working on two movies at the moment, can you tell us about them?
Yes, right now, I'm working on two projects, one is an epic movie. I've been asked by a Festival Board in Italy to submit another epic movie because I did one that they accepted and it became the only film that was shown from Africa at the festival two years ago.
So, they now sent me a letter again to submit another epic movie, though I've not started working on it because I've not found sponsors who understand what we are trying to do. The other one I'm working on is a modern film and this will take me to different countries. I'm compiling the materials for it and I hope by next year, everything will be ready.
How did you find yourself in this industry?
My parents used to act when they were in school and I think this got into my blood, but you know the way parents are, they would want you to go to school, study and become a lawyer or doctor.
Well, I went to school but at a point in my life, I just discovered that I had a passion for acting. Anywhere I went, even when I was in school, people usually tell me I was meant for the theatre. And when I was studying English in UNILAG I did Theatre Art as a borrowed course and I was very functional.
When I had to give up my paid employment, I looked into what I can do for myself that would make me happy. I felt I needed something more of a passion, so I spoke to my brother's friend, Sola and he promised to take me to a production company, Alpha Vision owned by Tajudeen Adepetu.
He took me there and I was auditioned for a comedy programme, Laugh Matters, which eventually became my very first job. Later, I was auditioned for Everyday People and I was given a role. From there, I took part in a series of their programmes and since then, it has become like an everyday thing for me.
I also went for Face-to-Face. I did two episodes and when they started another series, they asked me to come and be acting the part of the landlady and I have been happy with what I've been doing since then.
You earlier mentioned that parents would want their children to become either a lawyer or doctor, you are an actress, is acting giving you the fulfilment?
To be honest with you, acting has been paying a lot of my bills. When I came in for Laugh Matters, we were paid N5,000 per episode and I did 26. This was about 10 years ago and if you now do a calculation of what I earned then per episode, you will also add to it what I earned from my Everyday People. I will tell you, if I am not wasteful and I am contented, the money settled my bills. When the jobs started rolling in they pays my bills, for me it's okay, because I can't speak for others. Honestly, I'm contented with what I make from acting. Though, my parents wanted me to be a doctor or lawyer, but what I am doing now is making them happier. I'm able to take care of them and I've been able to do a lot for myself.
Aside finding sponsors for your movie, what are the other challenges you have or that you have been able to conquer?
Life itself is a great challenge, another one is being unable to produce my film. It's not that I cannot produce films, but you want to do something above standard and this attracts big money and this seems to be a challenge. Apart from that, another challenge I see is the competition for what you produce.
I am a producer and I've been able to produce two movies and this comes with a challenge of what you face from the marketers, who choose to be paying bit by bit and at the end of the day, you will discover you had been working for others to feed fat.
In fact, this industry is a challenge to everybody and we don't know how to solve this. We have always been meeting, but we don't seem to have found a solution, this is a big challenge that we have not been able to overcome.
People tend to have a misconception of Nigerian actresses that they are wayward, how do you cope with that?
I don't agree with such. I am from a responsible family and I'm well-trained. Acting is a natural thing, there are so many responsible people, who are into acting and there are many people that also want to act but they are scared because of the misconception.
I am not wayward and I'm married to a responsible man, we know about the misconception and that is why we are here to correct that. I once said that I want to change the face of romance films in the industry.
You revealed you are working on a real romance movie, do you mean the film will involve all the kissing, necking etc?
Definitely, there will be restrictions because children are going to be watching it, but I will still make it look original. I am not going naked in the film. I am not going to have sex in the film, but I will do things that are more than those things that I have said. So, these are what we are going to do to change how they act romance movies in Nigeria.