Israeli Soldier, Palestinians Freed In Captive Swap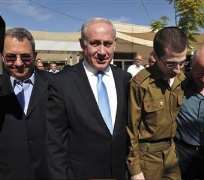 Israeli soldier Gilad Shalit and hundreds of Palestinians crossed Israel's borders in opposite directions on Tuesday as a thousand-for-one prisoner swap brought joy to families but did little to ease decades of conflict.
In one of the biggest ever such exchanges between the two sides, a pale and gaunt Sergeant Shalit was flown to his parents' home in northern Israel after more than five years held incommunicado by Hamas in the Gaza Strip, while a first 477 of over 1,000 Palestinians to be released under the bargain left Israeli jails for Gaza, the West Bank and abroad.
Flag-waving crowds greeted long unseen loved ones as heroes and uncompromising talk on either side left few illusions for world leaders who urged Israel and the divided Palestinian factions to build on the long-awaited bargain brokered by Germany and Egypt to reopen wider peace negotiations.
In an interview with Egyptian television as he passed through on his way from Gaza, a visibly weak and dazed Shalit, 25, said of 5,000 Palestinians who remain in Israeli jails: "I hope this deal will promote peace between Israel and the Palestinians."
But, while leaders of Islamist Hamas and their secular rivals in President Mahmoud Abbas's Fatah movement made mildly conciliatory comments about each other's role in achieving the deal, there was no sign of warmth across the frontline of the struggle for land and security between Palestinians and Israel.
"The people want a new Gilad!" chanted thousands at a rally in Gaza where Hamas leaders trumpeted their feat in holding on to their captive, even when thousands of Israeli troops swept through the coastal strip in early 2009 in a war against Hamas rocket teams that left over 1,400 Gazans dead.
"VICTORY"
Local Hamas leader Ismail Haniyeh, surrounded by former prisoners decked out in the green of the Islamist party, told a cheering crowd: "The enemy retreated, Shalit remained in the hands of the holy warriors and today we have victory."
In Cairo, where some of those released gathered before being sent into enforced exile, Hamas's supreme leader Khaled Meshaal praised the actions that had led to some of them spending decades in prison and made clear the war was not over:
"Those whose hands are and will remain on triggers are the honour of Palestine," he said, promising eventual triumph.
"Negotiation based on power forces the enemy to pay the price," Meshaal said. "We have defeated the Israelis."
In the West Bank, still the stronghold of Abbas after Hamas drove his secular Fatah movement out of Gaza following Israel's tactical withdrawal from the smaller territory in 2005, youths throwing stones clashed with teargas-firing Israeli troops.
Abbas is shunned by Hamas as pawn of Israel and its Western allies but has angered Israel and the United States by shunning long-stalled negotiations and seeking direct United Nations recognition of Palestinian statehood. He used the occasion to assure supporters: "You will see the results of your struggle in the independent state, with its capital Jerusalem."
Israeli Prime Minister Benjamin Netanyahu, who faced some tough questions from fellow right-wingers after agreeing to free hundreds of those who attacked and killed Israelis over the years, had strong words for those released:
Any who "returned to terror" would be "taking their life into their own hands", said Netanyahu, who called it a "difficult day" for relatives of Israelis killed in violence.
Such sentiments, however, were largely overwhelmed by the sight of Israelis welcoming home a young man, captured from his tank in a border raid when he was just 19, whose safe return was portrayed as Jewish Biblical imperative.
"I brought your boy home," Netanyahu said he told Shalit's parents, as he waited with them at an air base.
"Our son has been reborn," his father Noam said outside his home in a village in the hills near the Lebanese border. He told wellwishers that Shalit had some health problems due to lack of sunlight and of care for shrapnel wounds possibly sustained when he was snatched in a border raid in which two comrades died.
Israel has a history of trading captives for some of the few Israelis taken prisoner by Arab enemies, and has also granted releases in exchange for the return of human remains.
"NO REGRETS"
In Ramallah, near Jerusalem, Qahera Assadi fainted after embracing her family again, nine years after being jailed for her part in helping an Islamic Jihad suicide bomber
"I must be dreaming," said Assadi, 34, as she greeted her husband and four children. "I did what I did in defence of my nation and children and have no regrets at all. I was kidnapped from my children and spent a decade in prison."
Gilad Shalit, his breathing laboured, told Egyptian television in an interview: "I missed my family very much." He acknowledged it was nerve-wracking to be whisked from his lonely seclusion.
The conscript soldier, not seen since a 2009 video, said he had feared he would be held "for many more years".
Hundreds of flag-waving neighbours and sightseers lined the streets near his home. Many danced as a ceremonial shofar horn was blown when he arrived at nightfall after a day that he began, as nearly 2,000 before, hidden away somewhere in Gaza.
Wellwishers threw flowers and uncorked champagne as Shalit arrived by military helicopter at Mitzpe Hila. Dressed again in army fatigues after being released wearing a casual shirt, he managed one shy wave before being whisked into the family home.
Shalit has been popularly portrayed as "everyone's son" and polls showed a huge majority of Israelis backed the deal.
A military statement said Shalit was in good health and the army released photographs of him, back in uniform and spectacles, saluting Netanyahu. But witnesses said Shalit felt nauseous and weak on his arrival in Israel and needed oxygen.
Egypt helped to mediate the deal, and its army-backed interim government has sought to revive a role as a diplomatic linchpin in the Middle East. Negotiations had been going on long before U.S.-backed leader Hosni Mubarak was overthrown in February and the successful conclusion indicated a will in Cairo to play a part, despite post-Mubarak tension with Israel.
Under the terms of the deal, 40 of those who had been jailed for involvement in deadly attacks were being deported from Palestinian territory. Turkey confirmed it would take in around 10, while others were destined for Syria and Qatar.
After the 477 freed on Tuesday, a further 550 Palestinians will be released soon.
STALEMATE
U.S. President Barack Obama said he wanted Israelis and Palestinians "to take steps that make it easier to return to negotiations than harder."
French President Nicolas Sarkozy saud hoped for "new momentum" to dialogue between the two sides.
But it appeared unlikely the prisoner exchange agreed by the two bitter enemies would have any immediate impact on Israeli-Palestinian negotiations that broke down last year.
It was announced on the eve of the swap that international efforts to revive peace talks that collapsed 13 months ago in a dispute over Israeli settlement-building had failed to bring both sides together for meetings set for October 26 in Jerusalem.
Envoys from the Quartet of mediators -- the United States, the European Union, Russia and the United Nations -- will instead hold separate sessions with Israeli and Palestinian officials. Hamas opposes the peace process.
Palestinians set free included Nasser Yatayma, serving a life sentence for involvement in a suicide bombing that killed 30 people attending a Jewish Passover seder, or traditional meal, in a hotel in central Israel in 2002.
Amana Mona, a Palestinian activist from the West Bank, was also released. She was jailed for life for using an Internet chatroom and promises of sex to lure a 16-year-old Israeli to his death in 2001, when she was 24.
Shalit was abducted in June 2006 by militants who tunnelled into Israel from the Gaza Strip and surprised his tank crew, killing two of his comrades.
Israel, which withdrew troops and a few thousand Jewish settlers from Gaza in 2005, tightened its blockade of the strip's 1.5 million people after Shalit's capture.
The isolation has helped deepen a rift between Palestinian leaders. While investment has flowed in to the occupied West Bank, home to 2.5 million, while Gaza is cut off, impoverished and effectively engaged in sporadic war with Israel.
REUTERS