'Red day' for star actress, Clarion Chukwurah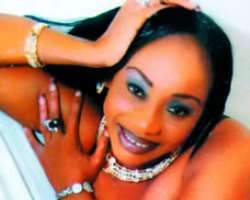 Screen goddess, Clarion Chukwurah, was at the centre of many celebrations last week. First, she toasted to 30 years of being on stage and screen. Second, she marked her 45th birthday. Third, she organised a formal public presentation of her Legacy Initiative.
The birthday party was colourful. It was a red and white affair, including dresses, lighting and the usherettes uniform.
There were many celebrities at the event. Nikki Laoye and Uche Odoputa, who turned to emergency paparazzi, were there.
Madam Kofo was present with her out-of –the-world headgear. Veteran TV man, Taiwo Obileye, Ken Caleb Olumese, Lady D, Konkere exponent; Otunba Tunji Shotimirin, DJ Jimmy Jatt, Sound Sultan were also there.
Also, Iyalode Aduuni Bankole, Seye Kehinde, Ifeanyi Dike, Dejumo Lewis, Tessy Yembra, among a host of others, stormed the event to give her a well deserved honour for her immense contribution to the world of entertainment.
The Director-general, National Arts Theatre and Director, National Troupe of Nigeria, Professor Ahmed Yerima, who spoke on Clarion and the Theatre, used the opportunity to thank Chukwurah for her role in his plays, Yemoja and Idemili, which won laurels outside the shores of the country.
The ageless beauty, who wore white and red dress, looked irresistible at the event. The hall got moody when Clarence, her first son, knelt before his mother and thanked her for her love, care and support.
On her part, Chukwurah said her journey on stage and screen, which was all about passion and not money, started at five, having been inspired by the late Michael Jackson.
Pasuma Alabi, with his two dancers, nearly brought down the roof with special rendition of praises to Chukwurah, which drew people from different areas of the hall to their feet.
Chukwurah's childhood friends, Mrs Joke Muyiwa and Mrs Stella Otoibe, were with her as well as her cute looking sons and beautiful daughters.
There was a goodwill message from the Lagos State First Lady, Mrs Abimbola Fashola, represented by Mrs. Bukola Folake and Hon. Farouk Umar Abdullahi, House Committee Chairman on Urban Development and key sponsor of the Clarion Chukwurah Initiative for Less Privileged Care Homes. The speech was delivered by Aisha Shown of Laraba Shown Foundation, Abuja, who revealed that there are 17.5 million orphans in Nigeria.
There was also a Clarion Chukwurah Initiative documentary on Nigeria's Less Privileged Care Homes, which is 10 years old.
The party later moved to Club Psapas for the night grooving.