PROBE EAGLES' FAILURE- SARAKI DEMANDS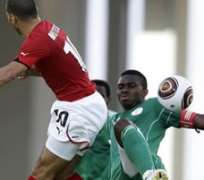 Former governor of Kwara State, Dr. Bukola Saraki, has advised the federal government to set up a committee to find out the reasons the Super Eagles failed to qualify for the next edition of the Nations Cup competition.
Saraki, a senator and sports enthusiast, bemoaned the Super Eagles' dismal performance in the qualifying matches, which culminated in their not qualifying for the competition.
The former governor said that the issue at hand goes beyond merely heaping the blames on Coach Samson Siasia, insisting that the nation's football administration needed surgical operation.
He opined that the problem with the national team stemmed from the poor organisation of the local league, even as he condemned the management's over reliance on international players for major tournaments.
He stressed: 'The Super Eagles' squad should be made up of 80 per cent local players and 20 per cent international players. Our failure to qualify for the Nations Cup goes beyond blaming the coach. It is all about management. It is something that really needs a surgical operation.
'The local league is done haphazardly. We must have a very viable local league to make impact in international and continental competitions.'
Saraki, who said that even without a coach, the Super Eagles ought to have qualified for the Nations Cup, pointed out that 'we should set up a committee to determine what went wrong. It goes beyond sacking the coach.'