Chinyere Wilfred In Pains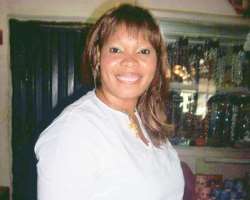 Have you seen actress Chinyere Wilfred of late? Before you complain about her weight and why she shouldn't be wearing spaghetti strap gown like we did when we saw her at recent event in Abuja, please look deeper. The ever-smiling mother of three ironically known by fans for her expertise in crying in movies lost her brother recently. Wilfred's younger sibling was shot and killed by unknown gunmen in University of Port Harcourt where he was a student until his death.
Wilfred, who dedicated the award given her at the event to her beloved brother wept as she did. She told everyone present that her brother had a bright future ahead of him especially in Nollywood where he appeared in a few films before his death. Take heart dear sister.