AGAIN, EAGLES COACH BEGS NIGERIANS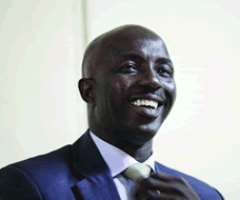 Coach Samson Siasia yesterday emerged from the room where he was drilled by members of NFF Technical Committee for about 50 minutes to the waiting journalists who kept a date to know the outcome of his interaction with the committee.
He simply said: I am sorry, tell Nigerians that I'm really sorry to disappoint them.
'Though, I don't know if this apology can change anything now, but I want to say that I am sorry'. Siasia also issued a passionate plea that he should be given more time on the job. 'I love this job and I know what I'm doing – I just need some time.
'Let (Nigerian fans) look at what we have been doing, let them look at the games we have played and compare them with videos of matches before I took over – they would see improvements, they would see changes.
'They can see the players running – not what we saw at the World Cup. I don't need to tell them – let them go and look'.
The coach addressed head-on the problems he has faced in trying to run the squad, especially in terms of discipline – and admitted he had difficulties with some members of the camp. 'Most of the players causing the problems are the ones who have been there for more than 5 years – they just want to take over the camp and I won't let them,' he said – explaining why there had been persistent discipline problems within the squad.
'I am not a brutal person or a dictator, I try to compromise – but I am the head coach and whatever happens I will take responsibility.' He hinted that if given the chance to continue, he would reshape the senior team.
'It takes time to build a team – give us some time. We know Nigerians are hurt but give us some time.'