'... OKOCHA'S KANU'S BIG BOYS ERA DESTROYED EAGLES'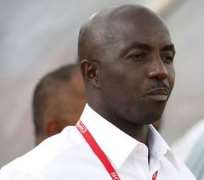 * SAMSOM SIASIA TOO ARROGANT
Fellow Nigerians, lovers of football and followers of the Super Eagles of Nigeria, thanks for the prayers and the unquantifiable supports to the Sampson Siasia's lead Super Eagles till now. This kind of support was last seen in 1993 en route to the winning of the "Nations Cup" in Tunisia in 1994 by the Super Eagles and their second round impressive performance against Roberto Baggio's motivated "Azuris"of Italy at the "FIFA" world cup in USA the same year.
Despite the fact that Siasia led our U20 team to a marvelous second position after fantastic and slippery Lionel Messi inspired Argentines to defeat us 2:1 in the FIFA U20 world cup final in Holland in 2005, he was my second choice for the Super Eagles job after Stephen Keshi
Because any time Nigerian national teams are having matches especially Super Eagles, Nigerians forget their differences in unity. The Boko Haram from the north drop their bombs in support of the Eagles, the militants "MEND" from Niger Delta leave their hiding bushes to support the Eagles, the "Biafrans" from the east temporarily leave behind their struggle for an independent state to support the Eagles, the Muslims and Christians unite spiritually in praying for the Eagles'success and would hug each other with love in happiness and even the native doctors all over Nigeria including "Ijebu" unite traditionally in tying the legs of the Super Eagles' opponents for victory and our corrupt failed politicians from PDP, ANPP, APGA, ACN and CPC etc. forget about their loots in the banks and their appointments with their girl friends and descend from their expensive mansions and luxurious cars to associate themselves with us the poor under one political entity called Super Eagles. Consequently, Siasia must be cautioned and reminded of his past for him to be careful and watch his steps before he destroys the only generally accepted unity of Nigeria in arrogance.
His recent unguarded statements on Jay Jay Okocha and Kanu Nwankwo and his arrogant action against his players should be condemned by patriotic lovers of Super Eagles and Nigeria. He was recently quoted to have said that "Okocha's and Kanu's big boy era destroyed the Eagles. … It was when'Jay Jay' Okocha and Kanu Nwankwo became captains of the national team that things changed. That was when the whole Super Eagles were destroyed, there was not that union anymore. They stayed alone in their rooms. How can you bring players together if everyone is on his own?" I made it as a point of duty to read his interview from different sources at least to see if there was any place he was asked to compare the captains of the Super Eagles or why Okocha and Kanu as captains were not so successful like"Chairman" Christian Chukwu of the 1980 Super Eagles (then Green Eagles) or "Boss"Stephen Keshi's mesmerizing Eagles in Tunisia 1994 etc. but I did not see. Because Jay Jay Okacha and Kanu Nwankwo had stayed in their rooms while the Eagles captains as alleged by Siasia should not attract such open heavy attack or criticism that has got the capacity of portraying them as bad people or bad leaders and instigating Nigerians against them or denting the integrity and reputation they built over the years. The public condemnation of these patriotic citizens in this nature is not necessary and should have been tactically best used in the dressing room to achieve the maximal result by gingering the players especially Joseph Yobo, the captain, but surely not for public consumption in this form. While I agree that there are lies that are still golden and acceptable like the one told by Abraham in the bible, I equally subscribe that there are truths that are deceptive, harmful and dangerous like any lie.
The way Samson Siasia disliked the style of Okocha and Kanu's type of leadership as Eagles captains is the same way I want to condemn his pomposity and unapproachable style of coaching the Super Eagles. First he had problems with Osaze Odemwingie and now it is with one of the most humble, dedicated and the best goalkeeper Nigeria has now Vincent Enyeama.
So many Nigerians ignorantly supported Siasia against Osaze but had to quickly withdraw their supports immediately after Siasia had rejected Osaze's apology. My understanding of these five letter words "sorry" is that it looks very simple but very hard to use. Siasia has not shown enough maturity or managerial skill as the leader of the Super Eagles of Nigeria as the case of Vincent Enyeama has proved.
Please can somebody tell Siasia that he was one of the most undisciplined players of all time Nigerian national teams? He could only be compared with Etim Esin who arrogantly instructed the then Nigerian U20 Flying Eagles coach Chris Udemezue of blessed memory to go and beg his father in Calabar before he could feature in the African qualification match between Nigeria and Egypt in route to FIFA U20 world cup in Chile tagged "Chile 87" which Udemezue did. Siasia told us how Okocha and Kanu destroyed the Eagles but he did not tell us why the Dutch man Clemens Westerhof condemned him to the bench after the Nigeria vs. Côte d'Ivoire qualification match to "Tunisia 94" "African Nations Cup" in Côte d'Ivoire. He did not also tell Nigerians about his role in dividing the Eagles into camps in his playing days. He equally did not explain to Nigerians the problem he had had with Rashidi Yekini why he had always refused to give the gangling striker passes that confirmed his permanent bench warmer.
The protest of Enyeama against the confused NFF chartering "Molue" plane to a match venue is a genuine one that most be encouraged. A country where one state Governor can afford to buy a plane worth $48 million for himself and the entity (Nigeria) itself cannot comfortably and safely convey her prized patriots to a national assignment probably because no "Egunje" will come out from such trip calls for national mourning. If Cameroon, Ethiopia, Togo, Somalia, Niger Republic or Mozambique could hire direct sound flights to their match venues or Guinea could hire a direct sound flight to Nigeria, why could not Nigeria? This saga reminds most of us the death of the "Nigerian Airways."A country like Nigeria has got no airline. It is a shame and a national disgrace that calls for a probe. May be we should be hiring the Ethiopian airlines for the super Eagles.
I am annoyed because my darling team the Super Eagles is out of the Nations Cup because of Siasia and the politicians in the Nigerian Football Federation (NFF). It is a humiliation and a disaster as an ardent supporter of the Supper Eagles.
We have been again told that Enyeama has since apologised for peace to reign. Even though his protest was patriotic and reasonable in my candid opinion because he valued his life and that of his colleagues but Siasia once more rejected his apology like that of Osaze and abandoned the Nigerian present best keeper of which the result we saw against Syli Nationale of Guinea. Who knows whether Enyeama's presence would have made any difference, but the honest truth is that he is presently our best. Why did Siasia not forgive him after his apology? Here are Enyeama's words, "My concerns were over safety, comfort and a better treatment in team's preparation… What I said and how I went about it probably didn't go down well with some people – but that was me.… I raised a very sensitive issue, a selfless one in the best interest of the team, but was told of its bad timing. … I felt it was something that was dealt with in-house (but) unfortunately it has been blown out of proportion in the media. …I apologize to the coach, officials and to my colleagues in particular, and to the nation in general for all that has happened." Siasia wants to be seen as a disciplinarian or as a saint before Nigerians that was why he rascally blew the issue out of proportion without any atom of maturity and consideration.
Samson Siasia and the Nigeria Football Federation (NFF) are playing with the emotions of Nigerians and the future of Enyeama otherwise how does one describe a situation where Siasia said that he had forgiven Enyeama and that everything now depends on NFF and NFF Chairman Aminu Maigari replied Siasia and here are his words "It is not for us to decide for the Head Coach who to invite to his team. It is important that we make this clarification now so that it does not look like the NFF decides who to be invited to the senior national team." Please between Siasia and NFF who takes decision here?
At the peril of the nation Siasia sanctioned innocent Enyeama against Syli Nationale of Guinea even after over 4 weeks of his apology. Siasia boasted that he will beat Guinea 3:0. But a more technical and tactical serious minded Guinean team has made Siasia to eat his words and kept many Nigerians like me in pains. Siasia, have you now seen how you have arrogantly destroyed the Eagles and not Okocha or Kanu as you said.
Siasia, your team lacked vision and fighting spirit, they were not committed and there was no hunger for success in their play because the general mentality of approach displayed was like the match had been won and that there was nothing at stake. Taye Taiwo was the worst culprit amongst them with his unserious big man football while Osaze squandered begging chances. Your strikers were barking toothless bulldogs that missed goals pregnant women could have scored. The Syli Nationale of Guinea did not look all that dangerous but each time they came close to scoring we saw that your defenders were wobbling, uncoordinated and vulnerable. Everything you did with your team from your selection to your formation was wrong except the changes. Therefore you are not the messiah the Eagles need. If results are the yardsticks of judging a coach, then Siasia you have failed. If NFF will forget tribal sentiments, overlook politics, take emotions away and show professionalism, goodbye Siasia from the Super Eagles. But just if they (NFF) still want you as the national coach Siasia because of Nigerian factors they should please send you back to the U20 or U23 teams because it makes a whole lot of difference which team one is coaching.
However, since most Nigerian parastatals are corrupt and there is a lot of nepotism and ethnic favoritism in our system, therefore, if they insist in retaining you Siasia as Super Eagles coach against professional ethic, well, I wish you well and will pray for your success. I will equally advice you to show some level of managerial skill and maturity as the father and leader of the Super Eagles and recall unconditionally Enyeama immediately for a successful campaign towards FIFA World Cup in 2014.
Samson Siasia, may God protect you and guide you and thank you Vincent Enyeama for your patriotism, courage and sincerity.
** Uzoma Ahamefule writes from Vienna, Austria. [email protected]+436604659620 sms only.
Disclaimer:

"The views/contents expressed in this article are the sole responsibility of

thewillnigeria.com

and do not necessarily reflect those of The Nigerian Voice. The Nigerian Voice will not be responsible or liable for any inaccurate or incorrect statements contained in this article."
Articles by thewillnigeria.com