Labour Calls Off Strike In Anambra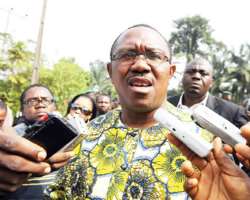 GOVERNOR OF ANAMBRA STATE PETER OBI
SAN FRANCISCO, October 12, (THEWILL) – The Nigeria Labour Congress (NLC) in Anambra State has suspended its three-week old strike in the state following government's promise to ensure that all negotiations with the union are concluded within three weeks.
Announcing the decision to suspend the industrial action in state capital Awka, NLC State Chairman, Comrade Patrick Obianyo said the workers took the decision in the interest of the state.
A six-point statement signed by representatives of labour unions and government said a six-man technical committee will be set up to work out a mutually acceptable minimum wage template within 14 days, while government will raise a new negotiating team to represent it in further negotiation with the organized labour.