Terry G – Exclusive & Uncut: Akpako, Now Muzik, Being Misunderstood, Wedding & more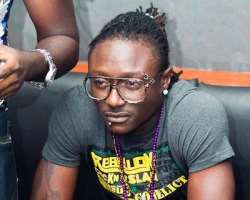 This is Gabriel Amanyi known as Terry G 's most intimate interview where he touches on several issues, his failed understanding with Now Muzik, copyright infringement claims from colleagues over reuse of beat, his new album and more.
On new album sales – Just because it wasn't launched and no enough buzz. I was not available 'cause I was always travelling and not around to push it out.
Agrees that he needs ideas and cooperate packaging and not someone leaving on his past connections and bothered about having not received any awards so far.
Most mis-understood artiste? I deliver what the street wants, I am not as worst as I portray 'cause I am an act just like the actors in the movies so tomorrow could be of a new change.
On Terry Gzuz? Is just an acclaim to show I belong to a christain firm not anything anti-christ like.
If I were doing strictly christian [gospel] song? I could had been this popular too, but doing secular is to represent the youth and I have no regret doing this but change is constant and inevitable
On Now Muziq controversies? I knew this would go this way 'cause I wasn't getting what I wanted.
On other artiste's beat usage: It's my beat which you paid for and should remain my intellectual property in as much as I didn't sing his song the way it was recorded and even other acts using that beat I can even sued that fellow performing featured acts song on stage-
On Now Musiq I felt cheated and they were just out to eat from my brand, we never signed any papers whilst the street wants me daily and I keep loosing while trying to keep at per with the corperate world.
On 1,500 naira per album price/sales? Yes, why should they change my brand for same reasons why I am known. Who would buy such? My same disciple?
How emotional is Terry G? I am a soft person, used to be in love but now no more.
Wedding Rumours? God is my witness o, I was at home when I saw the report, maybe they saw me at someone's wedding and taught I was the one getting married.
On Love Child? I use to have a child, whom I use to be proud of but after 3 DNA's I found out she wasn't my child afterall, imagine after taking care of her for 3 years.
Any wedding plans? Of course, my mama dey wait 4 me to hurry down the aisle but right now I have nobody.
On Endorsement? I suppose them Energy drinks 'cause I have the swagger to sell their products maybe they are scared coming close but they should remember I'm an act on stage and off stage, I am your next door neighbour, Gabriel Amanyi
Do you do drugs? No, I have never tasted Cocaine, Igbo but I smoke and almost all Naija acts smoke.
Smoking for Inspiration? Nooo, Anybody who does that lacks the ginger.
Meaning of 'Akpako'? It simply means finding a way to the bottom of wherever you are for you to gain promotion to the next level.
Parental support? I am from Benue, family of four, my younger brother – D-Money works with me here as an artiste, my two younger sisters are in the University. My mum owns a supermarket around Fagba here and my Dad works and also takes charge of all my properties 'cause ours is a God-fearing home and I have their blessings.
On Leavin my Hood- Fagba? I am more secured within my hood so why move out.
Scared of the future? I am always cautious about being the rave of the moment, So I do things that will make me relevant, stay well and I am using my time well.
Being a Producer & Artist? I am more of a producer than being an artiste, even though I never planned being a singer.
Relationship with Faze? I use to backup for him and in my new album, I featured him as my boss and we are still together.
Future Projects? Dropping my mixtape soon to be titled LUCIFER, video of 'Baby Don't Go' coming soon and D-Money's album with other house of ginger stuff coming out soon.
Education? I dey UNIBEN, Sociology 400 Level and atimes, I have my lecturers come take me on Private lessons since class fit no contain me atimes.
How much are you worth? I don't know but am so expensive.
Most memorable moment? Once kissed by Tonto Dike at the Nu Grotto lounge recently saying she loves my song so much.
On Artistes sharing beefs with you? I have forgiven them long ago, 'cause the divine God also forgives us when we go astray
On Hennessy not bringing endorsement? Well I don't care I am doing it for my pleasure and I think there's politricks in the system but I know one day, they are gonna come back and then, they will sell better 'cause we don kari we song over-sale them sef.
Words to fans? I appreciate them so well and try giving back to them always, my fans on Facebook and Twitter are the best.
MC Icewater is an On-air personality with Eko 89.7 FM. His shows done in Pidgin English come up on Mondays 05:20pm, Wednesdays 2:10pm [Joli-Joli Avenue which is fully comical], Thursday mornings 1am till daybreak [Yabbis Unlimited where he has hosted several several Nigerian celebs ]. He is a Mass Communications graduate from OOU, Ago-Iwoye.