Me a copycat? I don't sound like 9ice or anyone else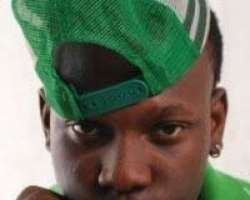 As his musical reputation gradually began to gather momentum, so did the controversy surrounding his style and originality. Following the successes recorded with singles like 'Ara,' 'Sobosun,' 'Give it to me' and 'Ebity,' the stage was set for Oluwadamilare Abayomi Akano, popularly known as Isolate, to open a new page in his musical career. Curiously, he is up against a critical challenge. Critics say he is a copycat – without originality, and almost sounding like rave of the moment -9ice.
The similarity between his style and that of the popular Gongo Aso crooner, 9ice 'the say,' is so apparent, yet the fiery act struggles to shrug off such allegation, insisting that he is a man of his own. In fact, he regards it as an insult for anyone to even insinuate that he is copying 9ice.
Isolate hit limelight following his successful collaboration with Hapuya Master, Morachi in the single, 'Hustler Story.'
While it was being speculated in some quarters that 9ice's single, 'Photocopy' was an indirect attack on Isolate, the true picture soon emerged with Isolate's reply to 9ice in his single, 'Ebity.' In 9ice's song, the line went, "Photocopy, ko easy. You can never be like me-this is my identity-teni teni…" In Isolate's Ebity, the line goes: "Tani photo, talo n copy (which means who is the photo and who is copying)…why you come dey binu ori-you better free me…"
Today, his musical oddysey has a face and that face is titled 'Ara;' his lastest offering or album, a 10-tracker.
My Style
Music is what I love to do. I sing music with my own dialect which is Yoruba, spiced with English language. I also love Afro and highlife. When I weave songs in Yoruba, only then would my music come out right as African Hip Hop. That is how I classify my genre of music.
I don't sound like 9ice or anyone else
A lot of people listen to my song and they say: 'Ahan! When did 9ice drop this song?' That's just the confusion. I'll call it a controversy. I still believe I don't sound like anybody. As far as I'm concerned, I sound like myself. That's just the way it is. I don't consider 9ice a threat in any way. 9ice knows me very well but I wouldn't like to go too deep into that at the moment. He knows me very well and he's been a good brother to me. He's a lovely person and he's also been through a lot of hard times. Let me put it this way, if you find yourself in the wilderness, before you chop (eat) meat, you need to hunt. If you don't hunt, then you won't eat meat. I really love him and appreciate him for who he is. The Yoruba culture marks the point where my musical style crosses path with that of 9ice but that doesn't make us enemies. Everybody is different.
Yoruba language
I didn't live with any grandparent. I know that sometimes, my music might sound like incantations but my dad was African to the core. He was a genuine Yoruba man so I took full advantage if that. The inspiration is just God. Whenever my dad wanted to communicate with me, he would use proverbs. Before he made a statement, he would have used two to three proverbs. He was a very big inspiration to me. However, God remains my biggest inspiration. God is my strength. I'm still an instrumentalist for the church.
Genesis of music career
I've had a passion for music since my days as a kid. I love everything pertaining to the arts. I'm a professional drummer. No one taught me how to do it. The drum was the first musical instrument I fell in love with. I just picked it up and started fiddling with it and before I knew it, I was playing drums at age seven. At a time, I was even playing drums for Fuji artistes.
Morachi & I
Morachi has been a very good friend of mine since I started doing music. I recorded a song with him on one of his albums. I've been doing music for six years now. We're still good friends.
Carnal temptations
I'm not married. I'm a young guy. The only thing I have time for is music. As for relationships, I'm not into it at all. I'm not committed to anyone at the moment. I'm focused on my music. I don't see girls as vital at the moment. Of course, they are necessary to have around but at the moment, there's no space for the opposite sex. I am a very cautious person and I have my dignity to protect.
Videos
I believe an artiste is different from a musician. As a musician, you must remain in the music business. I love live band. I'm expecting to shoot some videos this year.
Relaxation
If I'm not in the studio, I love the local life, so I savour it. I'm a local man so I enjoy the Yoruba delicacies, especially 'Abula.