RALPH FIENNES AND DAVID CRONENBERG TO GET BFI HONOUR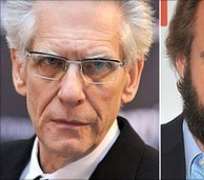 Films directed by both Cronenberg and Fiennes (right) will be shown at this year's festival
Actor Ralph Fiennes and director David Cronenberg and are to receive BFI Fellowships at the 55th BFI London Film Festival (LFF) later this month.
Cronenberg, known for films including The Fly, Crash and Eastern Promises, will be the first Canadian to receive the BFI's highest honour.
His latest film, A Dangerous Method, will premiere at this year's LFF.
Fiennes' directorial debut, Coriolanus, will also receive a gala screening at the event.
His contemporary adaption of Shakespeare's Roman drama was shot over eight weeks in Serbia. Fiennes takes the title role, with supporting actors including Gerard Butler, Vanessa Redgrave and James Nesbitt.
A Dangerous Method, about the relationship between psychologists Sigmund Freud and Carl Jung, stars Michael Fassbender and Cronenberg regular Viggo Mortensen.
Previous recipients of the BFI Fellowship include Lord Attenborough, Sir Michael Caine, Clint Eastwood, Bernardo Bertolucci, Martin Scorsese and Dame Maggie Smith.
In a statement acknowledging his award, Cronenberg said: "British cinema has been a potent inspiration for me and to be associated with this particular group of filmmakers is tremendously exhilarating.
Stephen Frears will receive an award in Europe for his 'outstanding and dedicated body of work'
"This is a monumental, in fact overwhelming, honour, and my being the first Canadian to receive it makes it all the sweeter."
Fiennes, who received an Oscar nomination for his role in Schindler's List, said he was "extremely honoured and delighted" to be given the award.
The Fellowships will be presented at the LFF's 2011 awards, on 26 October.
Meanwhile, British director Stephen Frears is to receive a lifetime achievement award from the European Film Academy.
Frears, who was twice Oscar nominated – for The Queen in 2007 and The Grifters in 1991 – said it was "very nice to be complimented by Europe".
He will receive his award at the 24th European Film Awards Ceremony on 3 December 2011 in Berlin.