KESHI VOTES YOBO AS BEST EAGLES' PLAYER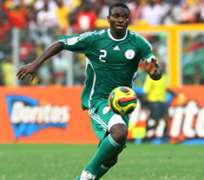 Ex-Nigerian skipper and Hawks of Togo tactician, Stephen Okechukwu Keshi, has picked Super Eagles' captain, Joseph Yobo, as Nigeria's most outstanding player in the 2012 Africa Cup of Nations campaign.
The Big Boss, as Keshi was popularly called during his hey-day in the national team, said in an exclusive chat that he had so far been impressed with the super performance and commitment of Yobo to the national team course, while noting that it's high time for him to be honoured by the Nigerian football fraternity.
'He (Yoba) has been giving his 100 per cent to the team and more importantly, he has always played as a captain. Each time I watch him play, he reminds me of my playing days,' Keshi began.
'I remember that I scored so many crucial goals for Nigeria despite the fact that I played as a defender. 'That is what the young man is doing now. I saw great qualities in him when he newly joined the team and that explains why I'm the first coach to hand him the captain's band in 2002.
'I'm happy that so many years after, that decision is still paying off. Yobo has done well for the country. I think his invaluable contribution to the national team deserves to be appreciated. I still believe that we have yet to see the best in him. He needs to be encouraged.'
With three goals in his kitty, Yobo is Nigeria's second top scorer in the ongoing Nations Cup campaign. He is behind Ikechukwu Uche, who has netted five goals in four games.
Yobo is one of the three sports personalities who will be honoured by the Federal Government with the National Merit Award next month.