False Start As CCT Adjourns Tinubu's Trial Over Fresh Charges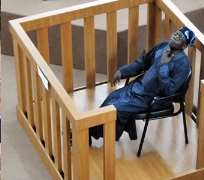 ABUJA, SEPTEMBER 21, (THEWILL) - The much-publicised trial of former governor of Lagos State, Asiwaju Bola Ahmed Tinubu before the Code of Conduct Tribunal for illegally operating foreign accounts while in office faltered before its start, as it was adjourned after fresh charges were served on the Action Congress of Nigeria (ACN) chieftain.
Egged on by ACN governors, Rauf Aregbesola of Osun and Abiola Ajimobi of Oyo, and by hordes of supporters who thronged the premises of the Tribunal with placards, Tinubu entered the dock when his case was called but his plea could not be taken because his legal team, led by Chief Wole Olanipekun SAN, requested for time to study the new charges.
Olanpekun argued that his client needed an adjournment to study the new charges and then return to take his plea. There were also strong indications that he would challenge the jurisdiction of the Tribunal to try him. But the prosecutor, Dr. Alex Izinyon SAN, disagreed, insisting that he had to take his plea before challenging the Tribunal's jurisdiction.
Although cases before the Tribunal are usually prosecuted by lawyers from the chambers of the Attorney General of the Federation (AGF), Izinyon, a SAN, is supported on the prosecuting team by Chuwkwuma Ekomaru, another SAN.
Tinubu responded in equal measure, backing up Olanipekun with an array of SANs including Oluwarotimi Akeredolu, Charles Udoswan, Niyi Akintola, Dele Belgore, Professor Yemi Osinbajo, Kabiru Turaki, Ifedayo Adedipe, Deji Sasegbo and Dele Adesina.
Chairman of the Tribunal, Umar Danladi acceded to the plea of Tinubu's lawyers for more time. In the interest of fair hearing, he agreed, Tinubu could not take his plea on Tuesday since the charges were served on him only in the morning and he had not had opportunity to study it. He consequently adjourned the trial to October 26.
The new charges accuse Tinubu of operating various foreign accounts between 1999 and 2007 with First Heritage Bank, Illinois, Citibank of New York, and HSBC in London, an offence contrary to Section 7 of the Code of Conduct Bureau and Tribunal Act, Cap C15 LFN, 2004, and punishable under section 23(2) of the same Act. He was alleged to have operated some of those accounts in the name of his wife or children.
"That you Bola Ahmed Tinubu, former governor of Lagos State being a public officer as listed in part 11 of the 5th Schedule to the 1999 Constitution and having subscribed to the oath of office on assumption of office between 1999 and 2007, and while in office as such you misinformed Code of Conduct Bureau by stating in the Form CCB1 that you do not have foreign accounts contrary to section 15(2) of the Code of Conduct Bureau and Tribunal Act," the last count reads.
Outside the courtroom, the Police and the State Security Service grappled with the onerous task of controlling the supporters of Tinubu, who has consistently denied operating foreign accounts while in office as governor or any other wrongdoing.