I don't want my children in showbiz----Yemi Sodimu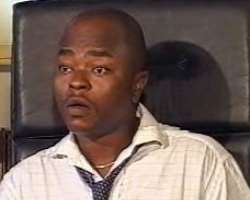 Yemi Sodimu, popular presenter and actor was recently appointed by Otunba Gbenga Daniel as his special adviser on Communication and Protocol matters. The Obafemi Awolowo University trained theatre artiste told Daily Sun recently that he would not want his children to take after him in showbiz. He spoke on other issues.
Background
I'm a Nigerian precisely from Abeokuta, Ogun State. I studied Drama and write drama. Also, I studied Mass Communication and I'm a popular artiste. I started from NTA Ibadan many years back. I worked for Mainframe Productions and I'm now running my own outfit, Yemi Sodimu and Associates. Basically, I'm television presenter, producer, director, actor, compere and businessman. Now, I work with governor of Ogun State, Otunba Gbenga Daniel as a special adviser. I still take time to do some acting. I'm married and blessed with children.
Life as an actor
Acting happens to be my first love and it is a very essential part of what I do now. The state government is doing a lot in terms of youths development and provision of employment opportunities for youths generally. We have been able to identify some numbers of youths who are talented. The government is trying to create an enabling environment for our young ones to be gainfully employed instead of roaming the streets. Be it on stage, in a kind of drama, acting, dance or promotion of our culture, I think Ogun State is an icon.
My children and showbiz
I don't want my children to take after me in communication and acting career. The only thing is that, I'll not force them to do anything, if they have a flair for it, why not? Who says that there can't be good innovation by the time they start acting and communicating? I'm aware of one or two of them who already have tendency to do so. One can only encourage them to follow their passion because they are still young. So, if they find it challenging enough, why not?
Challenges
Challenges are not different from what others have been talking about. One is not in the right environment to thrive due to lack of corporate sponsorship for arts. Yes, government is trying in being the major player in the economy. You find the government in private sector like in America. So, there is need for government to wake up to its responsibilities in providing an enabling environment for artistes. Government cannot fold its arms when pirates spoil the works of artistes, thus, driving them out of the market. That is a major problem now. When your investment cannot fetch you profits, you are not encouraged to go on. In terms of patronage by the public, people need to encourage the artistes, even on the part of the practitioners, there is need for training to be able to compete well with their international counterparts.
Sources of inspiration
God first and foremost. Of course, I had and still have people who inspire me. I will never forget the late Art Alade. He served as a source of inspiration for me. I admire the Olu Jacobs of this world. In actual fact, I admire both Olu and Joke Jacobs. They have done quite a lot. I love the music of Ebenezer Obey. I have said this times without number that after my youth corps service, all I wanted to do was joining Ebenezer Obey's band. That was what I wanted to do. Because right from infancy, I've been exposed to his music in Abeokuta and it was my late grandmother who influenced my love for Ebenezer Obey and other artistes like the late dramatic Duro Ladipo.
Way forward
There should be encouragement for artistes by the government, and the private sector.