Secrets of Nigeria's music production — ID Cabassa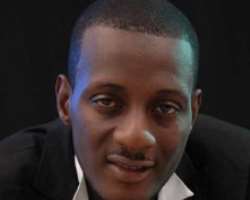 He's synonymous with 9ice's Gongo Aso, having produced all the tracks on that award winning album. That's just one of his numerous hits. Olumide Idowu Ogunade aka ID Cabassa is a confirmed hit-maker as his bouquet of awards, received directly and indirectly testify. His hits range from Ajasa's 'O ti Ya' and 'Le Fenu so' to Banky's 'Capable (Remix)', 'Shayo' by Durella, 'RuggedyBaba' by Ruggedman and 'Kpo Kpo di Kpo' by Faze, just to mention a few.
Among his latest awards are 'Best Music Producer' Hip Hop World Awards '09 and at the Nigerian Entertainment Awards held in Washington this month. Before all this, Cabassa was on his way to Dublin due to frustration in the country when his pastor's advice gave him a rethink; and the consequence of listening has been fame and fulfilment. That was over a decade ago. Born and bred in Akoka, Lagos, Cabassa holds a Masters degree in Management Science from the University of Lagos (Unilag). It is the degree with which he today runs Coded Tunes, his music company. This top rated music producer tells us how good music is done in Nigeria. EXCERPTS:
I used to work as a banker. I worked with both Savannah and Oceanic Banks. I was with Oceanic Bank for less than three months. I had to stop because I was a full time Masters student and there were no chances of combining school and work. Now I'm a music producer.
Any link between your education and music?
There's a bridge between both and it has to do with wisdom. Though, I won't tell you that I consciously chose to be a music producer from start….. It was with the help of my pastor, Yemi Ojelade of Global Impact, that I made up my mind to focus on music. There was a point in my life that I got pissed off with the whole Nigerian system and was on the verge of leaving the country for Dublin. He (my pastor) advised me to look inward for what I have passion for. I sat down and checked my strength: I'm a multi-instrumentalist. I play every music instrument you can think of. I'd been doing production while at the university. At this point, I had to take a conscious step towards doing music.
My academic background has helped to create a good package for Coded Tunes, of which I am the CEO. If not for school, I wouldn't know the worth of every personnel. Now, I can discern between when I'm doing business and when I'm doing the art itself.
Why were you frustrated?
I had tasted banking and it wasn't fulfilling for me. It was taking too much of my time. I wanted a job that I would get out of quickly and get home to my music. So, I thought if I could leave the country, I could make some money and then come back ready for music.
How did you discover music?
I don't remember when precisely. It must have been in the church when I was quite young. But consciously, it was in the early 90s. Then I was coordinating a band. It was a church choir and I was handling productions then, though not as a professional. The GM of Inspiration FM, Wale Ewedemi, used to be the band leader. I also sang in the band. Digital music was just getting into Nigeria then. I later hooked up with 2Phat who taught me how to use the computer, although we were using a completely different package which has now gone obsolete. I'd say I started then in 1995 when I was working in a studio, more as a Keyboardist, just doing production without making money.
How many instruments do you play?
I play virtually every instrument available here in Nigeria.
Which was the first you learnt?
The bugle. It looks like a trumpet without valves. I learnt it in the Boys' Brigade. I migrated to playing the trumpet and different types of drums. I taught myself how to play every other instrument apart from the bugle.
Must a producer be an instrumentalist?
I think it's a very important background for every producer to be, at least, a master of one instrument.
Are instrumental skills important in production?
It's like an architect that wants to build but cannot draw. A music producer makes music. One of the core reasons why the artiste really needs you is to give direction on how his music should go. It's like when Mourinho got to Chelsea. He asked the players which of them had received trophies in the competitions that he had. All of them said no. Then he said, "Okay, that means I'm superior". What gives you charge is when you can tell an artiste how each instrument will sound in his song if introduced. Even with the so many get-aways available with the digital age, there are some intrinsic things whose ignorance will still show. Any aspiring producer must be able to play at least one musical instrument. That way, you won't be placing wrong pegs in wrong holes.
Has song production paid off yet?
Well for me, financially, I'd say 'No'. It'll be shocking to a lot of people I know.
What is wrong?
A whole lot of things. From the absence of structure to piracy, and non-payment of royalties. All that a producer gets from a song he produces is the studio session fee he's charged, which is so minute. When your production and the artiste become mega stars, the only thing you get is hype, and then maybe, a few more people come to you asking you to perform the same magic with their songs. There's no financial gain, per se.
The only person I'd say that has been able to perfect his art is Don Jazzy. I don't really know the details of his deal with D'banj. But that's why you'll never see him work with anybody, not on their label. Living off song production in Nigeria is a daisy thing because it's a dark market.
How are you able to sound differently with each production?
I had different influences while growing up. Then, education has its own contribution. I've read books that tell me not to sound too differently with every job. Yet, to take each job as if I'm starting something new. The only common thread that runs through my production is that I try to infuse the African thing in every of my work. Then I have the urge to be different, and that means carving a niche for oneself.
How much lies on a producer in arriving at a good song?
On the producer, it's 60 per cent, artiste, 20 per cent, and mixing engineer, 20 per cent. You might say I'm being sentimental as a music producer but ask any artiste that will tell the truth and he'll tell you same thing.
Who is a good music producer?
He's somebody that understands music and how it works. He must have at least some understanding of engineering, know how vocals work, be an interpreter of skeletal music and then he must be sane and spiritual. You need to get into the spiritual to know how a song should come out.