Interpol Issues Alert For Gaddafi's Arrest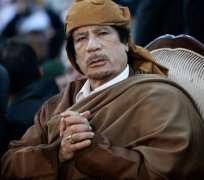 SAN FRANCISCO, September 09, (THEWILL) – A warrant of arrest -- the top most-wanted alert symbolised by Red Notices — was this morning issued by Interpol for deposed Libyan leader, Muammar Gaddafi. The warrant came after a request by the prosecutor of the International Criminal Court (ICC) for the arrest over alleged crimes against humanity.
Interpol, the world's largest international police organisation, said it issued the Red Notices for the deposed dictator; his son, Seif al-Islam; and former head of military intelligence, Abdullah al-Senoussi.
Gaddafi's whereabouts have been unknown since rebel fighters overran his Tripoli headquarters two weeks ago, only to learn of his disappearance with his henchmen.
In its public statement, Interpol said the Red Notices (the equivalent to being on the Lyon, France-based international police body's most-wanted list.) had been transmitted to 188 member countries.
Interpol Secretary General, Ronald K. Noble, called the notices "a powerful tool" that would help in the capture of the Gaddafis and al-Senoussi, adding that they would "significantly restrict the ability of all three men to cross international borders."