GOV.AKPABIO SPLASHES N5 MILLION ON SHOWBIZ FOOTBALLERS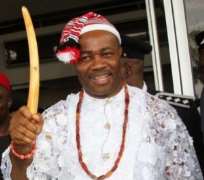 One of the remarkable things that happened during the entertainment star football match played in honor of late Christy Essien Igbokwe was the millions distributed by Akwa Ibom State Governor,Godswill Akpabio.
The Governor made it possible for all showbiz people present at the Teslim Balogun Stadium,Surulere on Saturday,September 3rd,2011 to walk away with cool cash.
The winners of the football competition,star musicians got the sum of N1.5 million from the Governor while their counterparts,movie stars who were defeated walked away with N1 million.
Top journalists who graced the occasion and equally competed among themselves were rewarded too.
Sports writers defeated entertainment writers were splashed with N1.5 million while entertainment writers got N1 million from Governor Akpabio.