WE'RE NOT INVOLVED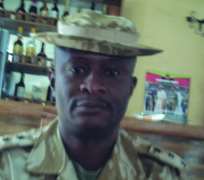 Amid accusation of complicity in Jos crisis, spokesman of the Special task Force, Captain Charles Ekeocha, said those accusing soldiers of aiding the violence are not fair.
He told Saturday Sun that his men are doing everything to ensure security of life and property and should be appreciated for so doing instead of being castigated.
Members of the STF have been accused of complicity in the attacks that have been going on in the state. Even the identity cards of your men were discovered at the scene of attack. How would you react to this?
It is laughable. The houses of our men were ransacked when we asked them to move back from the junction, when the people wanted to start making trouble with them. After moving back, their houses were ransacked and many things taken from them. They are talking about the identity cards they took with them and are not even talking about the ammunition they picked. Look, it is laughable that we will be attacking civilians we were meant to protect. What will we gain from killing them? Is it their land we want to occupy or what? What does a soldier man want to gain from the death of a Berom man?
So what will you say about the eyewitness account that men dressed in army uniforms were seen at the scene of the attack?
Just as I have said and will keep on saying, it is very unfortunate for a soldier or navy, as constituted in STF, to be involved in an attack. Anybody making that insinuation is just trying to tarnish the image of the Nigerian military. As I keep on saying, it cannot be true. This thing is unfounded. It cannot be true. I repeat, it cannot be true. We are not part of the attack. The only thing is that they are only trying to politicise our operation here and we do not want to be involved in the politics of Plateau State. So, it is high time they settled whatever is their problem. As I keep on saying, the problem of Plateau State can only be solved by dialogue and forgiveness. Even if they bring the American army here, the same problem will still come up. So, let them dialogue among themselves. The ethnic groups should dialogue and that is what will be a sustainable peace here. But for anybody to keep on rubbishing the Nigerian army is wrong.
They said your men were fully dressed in military…
(Cuts in) We need to ask ourselves why is it that it is only in Barakin Ladi and Heipang axis that these accusations keep coming? You should know that the terrain of that place is very difficult. There are many routes from there to Kaduna, Bauchi and Nasarawa. We have been saying it that they should allow us to deploy our men, so that we block off these routes, but they said no. They keep saying they do not want the soldiers. But at any slightest attack, they start calling us. By the time we rush to go and rescue them, they say the STF men are attacking them. We are not happy over the whole nonsense happening. The people you are working so hard to protect do not seem to appreciate you. I have not seen my family for the past three months. They are just in Kaduna here, but have not seen them for three months and somebody will be saying this? It is very unfortunate. Let it be known that we are not part of the attack. Let them settle the political problem of the state. They are trying to drag us into it and we are resisting that.
What was your role at the praying ground on Monday? It was alleged that your commander led the Muslims to pray.
That statement is an insult. When religious leaders come out to say such things, it is unfortunate. The CAN chairman was at the pre-sallah security meeting and for him now to turn around and say it was the commander that led them there to pray is unfortunate. He was at the security meeting, where certain areas were earmarked and it was said that nobody should go there so that there will be peace. The Izala sect, on their own, broke the arrangement we made. You know the Izala sect and others are not always on the same line. We are expecting the Eid prayer to be on Tuesday; all of a sudden some people decide to go on Monday. How is it now that it is my commander that led them when the man was trying to ensure that there will be minimal loss of lives?
The Izala too said the killings were going on while you people where looking. Fine, so between the two where do we belong now?
The CAN chairman said we led; the Izala said we were watching while they were being killed. The security meeting we held prior to Eid prayer, where they were told that nobody should go there, so that there will be peace. The JNI was there. But the Izala people were not there and you know they are not always the same with the other people. So that was what happened. We tried. There was loss of property there. But at least the minimal loss of lives that day was as a result of the STF. Otherwise, we would have been talking about 200, 300 people that died that day. You saw it. So, for anybody to say we led it, is unfortunate. Thank God he is a man of God.
So, what is your relationship with Operation Rainbow?
Operation Rainbow? They are trying to come up and take over the security of this state, which is good. We are having a cordial relationship; no problem. By the time they are fully on ground, the STF will go. So, we don't have any problem with Operation Rainbow.
It's said that you people are carrying this attack in Jos because you are about to leave?
Me personally, as am standing and talking to you now, if you tell me to leave this state, give me the next two minutes, I will leave here. For anybody to be making that type of insinuation, probably the person thinks we are making money. There is nothing in this state. Am not earning more than what I use to earn before. They are giving me N500 for feeding everyday. Is that money? Compare that to the level of work I am doing here? N500, let me make it open so that people will know. N500 per solider; will N500 feed you? So, we are trying to remain so that we will be collecting N500 everyday. Are they not insulting me?
I keep on saying that they should leave politics out of all these things and let them try as much as they can and sort out whatever problem they know they have. We are just trying to give them a platform. And I think that we have that platform but the political will I don't think is still there. So, at every slightest problem, they will start rubbishing our name. It is not the best. Let them sort out their problems and leave us alone. Today, if the Federal Government that says we should come here ask us to go, the way military do their things, within one week, all of us will go. N500 for me is no money in today's Nigeria. So, for me to be getting N500; if am not here, I will still eat. So, what is the nonsense they are talking about?