American Hawks Gala In Lagos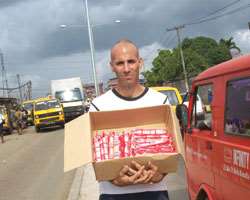 Sean Alsilski, hawking gala at Ojota bus stop
An American, Mr. Sean Alsilski, was seen hawking gala sausage rolls yesterday, at the Ojota area of Lagos state.
He easily drew a large crowd as Lagosians laughed and wondered what could have made him to hawk gala in Lagos, and on a sunny day too.
But Alsilski, unperturbed by the people watching and giggling at him, continued to sell his stuff to motorists and passersby who were eager to buy from him, some just for the fun of it.
He rebuffed people trying to ask him why he was out in the streets selling gala, saying he was too busy to talk to anyone. After much prompting by this reporter, he opened up on why he was out selling gala on Lagos streets. Alsilski said he came to Lagos to carry out a six-month research project on hawking and street trading in Lagos, and the best way to get the answers that he wants was to get involved in the real business rather than be an observer.
He said he had already spent five months in Lagos, hawking gala at different parts of the state. "I am here to do a research on hawking and street trading. I was billed to be in Nigeria for six months as part of the Fullbright exchange programme. "I have been here for five months now, hawking. I have one month to go. I am going to give a presentation to the United States Embassy about my research," said Alsilski. Born in the city of New York, the United States, Alsilski lamented that from what he has observed, government was harsh on hawkers and street traders.
"Hawkers here are under stress right now from the government and I am studying what the government is doing right now. We can make some recommendations. "Government is harsh on them. Some of them have had their goods taken away. I am not sure that is the best way to go about it. "In some cities, hawkers and traders are given licenses and allowed to go to certain areas to hawk. But hawkers should not be allowed to hawk in places like Oshodi," he stated. Alsilski's hawking business has taken him to Yaba, Ojuelegba, Mushin, Ojota, Mile 2, Apapa, Lagos Island and Agege.
By Kazeem Ugbodaga