Sex, film industry are like sesame twins — Yerima, DG, National Theatre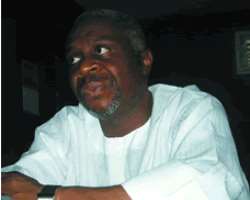 Yerima, DG, National Theatre
Professor Ahmed Yerima, the Director General of the National Arts Theatre believes that sex scandal is the wheel on which the success of movies stars rotates. He is convinced that stardom breeds sex scandals and that the more movie stars are involved in scandals, the more popular they become.
He said that sex scandals are common in movie industries across the world, adding: "Once there is stardom, there is sex scandal. Stardom is based on sexism and there is why they say role model, sex model or sex star."
On his experiences in this, he said: "I have done a movie before where I had to kiss a woman. I know of restraint and constraint to control myself. These are young men and women who must express and engage themselves in that regard. You find that these stories are watched in the society. This is how people are attracted to them."
Professor Yerima also spoke on the steps he took to bring the National Theatre back on its feet and turn the National Troupe to a money-spinning machine.
He said that his priority, when he mounted the saddle as DG of the National Theatre in 2006, was how to generate revenue and dissuade the Federal Government from selling it off, as there were proposals to that effect.
Consequently, he reached out to some private companies, which put down some money with which some basic needs were put in place. The next stage was how to convince the Federal Government to restore the release of the capital allocation.
Today, he says, there is a gradual turn around in the fortunes of the National Arts Theatre.
A graduate of Royal Holloway College, University of London, Britain, Professor Yerima is a professional in the field he heads. He has a postgraduate diploma in Theatre Arts and has taught in that field. He said: "I taught at the University of Ife, (now Obafemi Awolowo University),Ahmadu Bello University. At present, I teach as an icon professor at the University of Lagos. I write plays and also act sometimes."
With the fortunes of the National Theatre dwindling, the director general said his task of turning around the national monuments has been most challenging. He is, however happy that some positive changes are taking place.
He said: "It has been very challenging because I took over the National Theatre when the plan to sell the theatre, that is to concession it, was very strong. In fact, I took over when the concession bid for N35 billion for 35 years was mooted. And there was a lot of disillusionment by the owners of the place, the Federal Government; there was disillusionment by the artistes, who use the place; disillusionment by the society and international community, who had come here in 1977 as part of the delegates to witness Festac 77. So, they were not happy. What we now did was that while the talk of concession was on, we had to convince the government that there was the need to slow down. The only way we could stop the process was by turning the place around and showing that we know the uses of the National Theatre and attracting positive attention to the place. These were the challenges we had."
He said that there were different proposals to dispose of the National Theatre. According to him, there was a suggestion for outright sale as well as that for concessioning.
"There were different proposals to either sell or concession. Concession meant looking for professionals to run the place, and sell means selling it both hook line and sinker. The place was run down. For about five years, there was no power here or electricity, no water; everything was down. So, no programmes were taking place; it was just a dead house. That led them to the decision to either sell off the place or just forget it. To get people to come and run it meant that a certain level of rehabilitation has to take place before you ask people to come. It is when they come that they would say, okay, could you change this or add to what you have done here? That was the whole process," he said.
Incidentally, Yerima did not get money from the Federal Government to run the National Theatre when he was appointed. He said that the task of raising money to execute his programme was his own cup of tea.
According to him, "they did not give me a grant. I came and took over and we started trying to convince the government and to restore the capital allocation, which has been stopped. Also, to find out how this place could generate some revenue, which we will begin to turn around. So, the first thing I did was to speak with breweries and get them to come to "Abeigi"(Under the tree) and immediately breweries came they paid some money and that allowed us to fix the cinema halls 1 and 2. Then, people started coming for programmes and gradually we were able to convince government.
"That year alone, we were able to make N14 million as revenue, which now convinced government to say, okay, let's give them a trial and then, they gave us some capital. The following year, they also gave us some capital, which we used in refurbishing the toilets and other areas that had run down. Then we went back to the main bowl, which had not been touched since 1997 and reopened it and started trying to fix it. Now we had re-rugged it and fixed the panels; we are now looking for money to put sound and lightening equipment. So, that is it."
Prof Yerima is therefore proud to say that the National Theatre is getting back to life. He was emphatic to say: "Yes it is getting back, by the grace of God, and by the grace of the people. Yesterday, the two halls were full, that is the cinema halls 1 and 2, for those who came to see AY show, the Open House, Open Mic and those who came to see the Trials of Brother Jero.
"I don't believe in a adverts or taking photographs and saying we now have a place like this. You can make so much noise on the television but you can only bring a very low percentage of it to the National Theatre. But if you really want people to come to a place like this, especially now that we have competition you have to keep improving.
The Civic Centre is there, MUSON Centre, Law School Hall, Unilag Hall, etc, are all there. These are competitors. They didn't exist when the National Theatre was built in 1977. We are coming, even though the oldest, from a rich background. So we can't rest on our oars because we have a lot to catch up on."
The director general said that workers at the National Theatre have been most dedicated to their duties. He said he inherited a workforce of 400 but has about 200 at present.
He said: "There were already staff here. When I took over, there were about 400 people. The National Theatre never died, it was running. The luck we had about that time was that there was this process of right sizing, which government was doing; so, by the time this was over we had about 200 left. And this 200 had a psychological problem because nobody wants to work in a place whose fate is not known. It affected them; so, we had to help them get back their self-confidence and their pride and believe in themselves. We reminded them that it was a struggle we all are involved in, and that if we could get it right they would leave us alone."
He said that the National Theatre is running on full throttle, organizing events. "The National Troupe is showing the Trial of Brother Jero. Most of the programmes you have been seeing is by the national troupe. We have turned it to a constant programme.
What we now do is open up the National Troupe and bring in guest directors, because I can't do it alone. I will die if I try that. We will bring in established guest directors, like Ben Tomoloju, Niyi Akanmi, Felix Okolo, Makinde Adeniran, etc. In fact, we had had two, Felizx Nick Monye, who came all the way from Austria to direct Soyinka's 'The Swamp Dwellers;' Ben Tomoloju, who did 'Kunrumi.' Now, we are running the 'Trial of Brother Jero' by Bisi Adigun, who is a director based in Ireland. So, we have been working," he said.
On the activities of the national Troupe, he said: "We just come back. We have been to Brazil, Cuba, just between December and today. We went there with dances. We are planning right now to go to Zambia, and thereafter to Canada to see Ambassador Haye. We are planning. But what we do mainly these days, because of economic meltdown, is to plan and prioritize.
"We are fighting two wars. We are trying to keep within the consciousness of the people that the National Theatre is alive. Ghana has a National Theatre; they have a National Troupe that has never been to Nigeria. They are not dead, but working. And we have been to Ghana for a performance; we are expected there for the Pan-African Festival. We have it all lined up from now till December; we are booked to travel out of the country. But that is not my emphasis; my emphasis is to perform shows and use the money positively. Also, we just came back from Dubai. We went there to perform at the WTO; that is World Tourism. So, many things are going on, cultural diplomacy is taking place. At the same time our major spirit is to make sure that the National Troupe works.
Asked how the stage shows are faring, in the face of home video, the director general said: "Stage acting is always constant because it reflects the human activities of presentation. That is why, whether you bring home movies, cinema, even abroad the great actors or artistes of different films still go back on stage to act; you still find them performing on stage because the stage is where you draw the inspiration; technique, which you use for stage acting is different from the one which you use for film and therefore, you discover that as an actor, you do more work when you perform on stage. No matter what you do in with films, you must return to the stage. People like Keppy Ekpeyoung, Segun Arinze, all the big stars started from the stage."
Assessing the Nigeria movie generally, Yerima said: "The industry is very good; it creates job for us; it allows us to sell our image abroad; that is to rebrand Nigeria. And my students find work, which is good for me. When I see my former students, like Stella Damasus and others doing a good job in the industry it makes me feel proud. It also makes my new students have hope. I think gradually we are going to start talking of quality and standard, especially as the world is turning the attention to Nigeria to Nollywood and government is realizing the benefit of Nollywood in the country because if you talk of tourism the government is beginning to look outward to entertainment so, there is a future."
Yerima said that entertainment industry has always experienced scandals, especially those having to do with sex.
According to him, "sex scandal has always been there; once there is stardom there is sex scandal. Stardom is based on sexism and that is why they say role model, sex model or sex star. It has always been there. The models are beautiful and here are people who have to work together, even when they are shooting movies, those passionate roles, you should understand; so, it will always be there. I have done a movie before where I had to kiss a woman. I know the kind of restraint and constraint to control myself. These are the things there. These are young men and women who must express and engage themselves in that regard, because artistes have the bohemian spirit.
"I am not saying that it is right all the time. It is there, in America, India, Hollywood, Bollywood, Nollywood; it got be there because it is sex movies, sex stories and stars sell movies. You find that these stories are watched in the society. This is how people are attracted to them. I was reading a magazine the other day on Funke Akindele, my new favourite star.
After watching Jenifer, I just fell in love with her. And when I read the interview, they said she has changed her wardrobe, bought a new car and now wants a new house and I saw people selling cream. I went and bought it. So this is the whole idea of what sells a star. We, who are not star, dreams about the star and want to just be part of them. We can't take away sex from Nollywood; neither can Nollywood take away sex from itself."