Boom time for anti-nude actress-----Omoni Oboli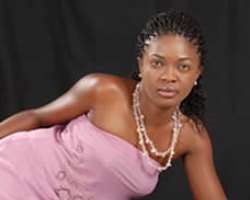 Her story runs like a novel. Nollywood's newest acting diva, Omoni Oboli epitomises the pride of an African woman who abhors the way and manner in which most star actresses go about in search of fame, money and love life.
A gifted writer with several intriguing screenplays to her credit, including the movie, 'Fatal Imagination', Omoni represents the new breed of actresses with some level of restraint. When she is not acting or producing, Omoni loves creating stories.
In June 2007, The Rivals a movie she co-produced with her friend, Blessing Effiom, won the coveted prize for Best International Drama at the New York International Independent Film and Video Festival. It was the first Nigerian movie to be premiered since the festival's inception in 2003.
Following up on the Rivals, she has shot into prominence as the class act of Nollywood, given her professional demeanor and strong work ethics. She is currently being featured as lead character in five yet to be released groundbreaking movies billed to hit the shelves later in the year. The movies are produced and directed by some of the big names in Nollywood.
Omoni has been married for 10 years, and throughout these years, she has had no cause to abandon either her marriage, or put her husband on his toes. Even recently, when her pride as a woman was put on trial, Omoni did not disappoint. Her rejection of a plum offer to play a lead role in an obscene movie that would have launched her into international stardom remains a clear indication of her strong belief in the dignity of the African woman.
Following the dignity she brings into acting, Omoni is consistently raising the bar and breaking barriers in Nollywood with diverse roles, showing great versatility in the various characters she portrays. Since her return to the movie industry three years ago, the Edo State born actress has risen to the top of her career in a short while, playing a number of lead roles in major movies.
She has brought poise, class, smooth delivery and extreme professionalism to the varied roles she has played in movies. But Omoni is totally not a happy woman when it comes to reading stories about how most of her colleagues' marriages are hitting the rock based on flimsy excuses. To her, broken marriages associated with
Nollywood actresses are unfortunate, and should not be part of African culture.
"It's unfortunate that things like this come with entertainment. It's like that all over the world. Even in Hollywood, such things prevails. It should not really affect us as Africans because we are brought up to respect and keep our marriages.
'It's really unfortunate that most actresses are walking out of their marriages. By this way, people will be begin to look at all of us as possessing the same traits. The truth is that we are not the same. Among us, there are people who still value their marital status, and will do everything to keep their marriages. They believe that marriage is something we must keep sacred. As actresses, we need to keep our marriages, no matter what we do, or who we are in society," she argued.
Omoni, who has three sons from her 10 years marriage in an encounter with HVP added that, "if you think your husband does not support your vision or career as an actress, don't venture to marry him in the first place. There is no point saying, 'I do' to a man you will not confess love and appreciate for a long time."
Omoni may not have had a clean record as an actress but the evidence on ground proves that she is an epitome of what is moral and excellent in Nollywood.
"As an unmarried actress, my advice to you is that if you want to marry endeavour to marry a man who is ready to support and show you superior love. I have been married for 10 years now, and I have never had any problem with my husband. He understands and supports my acting career. That's the kind of marriage every unmarried actress should be aspiring to, " she continued.
She believes that Nollywood is passing through a phase, which will see the industry exploding soon. She said, "everybody knows that the industry is passing through a phase. But I just believe that with time, we are going to get over the storm. It's like we are separating the chaffs from the grains. Right now, the bad eggs are being dropped. We need to have an industry that's is streamlined, purposeful and visionary to enable investors to come in and patronize us."