Prominent Nigerians felicitate with Ajibulu in Lagos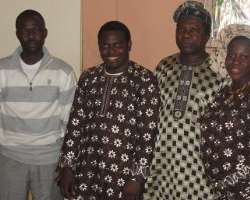 Jide Ajani, Emmanuel Ajibulu, Dr. Joseph Akinlaja and Jumoke Ajibulu
Former Deputy National President of Nigeria Labour Congress and current Deputy National President of Labour Party, Dr Joseph Akinlaja was among prominent Nigerians who attended the naming ceremony to the child of an ace perception manager and modernghana representative in Nigeria, Emmanuel Ajibulu.
The child christening was conducted by Pastor Joseph Olaniyan on Sunday (12th July 2009), General Overseer of Christ Liberation Christian Centre. According to the priest the child was described as a source of blessing to the family Emmanuel and Jumoke Ajibulu, pointing that the two parents must concentrate deeply in teaching the child all the Christ-like virtues. The baby boy was named Ayomide, David, Temitope, Ajibulu.
Pastor Olaniyan further said bulk of the children we see on the streets in Nigeria who are contributing to the societal vices are from broken homes. According to him a decay in the house will largely influence the society negatively. He however, urged Jumoke and Emmanuel to teach and raise the child in a manner that can promote Christ and for societal growth, while reaffirming that the upkeep of a child should be a collective responsibility of both parents.
A short while after the exit of the priest Dr. Akinlaja used the opportunity to intimate youths that are present at the occasion that they should dissuade from being used by politicians to precipitate violence by desperate politicians who wanted powers by all means. He reiterated that Labour Party is a party of the progressives that can bring meaningful developments to Nigeria.
Other prominent Nigerians present were Deputy Editor of Sunday Vanguard, Mr Jide Ajani, Chairman of Petroleum Tankers Drivers (PTD) of NIPCO, Alhaji Aliu Balogun, MD/CE of Strand Capital Partners, Mr. Biodun Akintaju, MD/CEO of AL-FIL Petroleum Nigeria Limited, Alhaji Idris Alao, Oluseun Togunbo of Lekki Concession Company (LCC) and his wife.
Also member s of staff of Oando Nigeria plc like Mrs Yemi Koleosho, Fred Idahosa and family, Ifeanyi Onumonu, Olarewaju Ogundele, Abraham Ezumezu, Toyin Ubamadu and husband, David Jonah, Damilola Adewunmi, etc . The President of Nigeria Guild of Editors Mr Gbenga Adefaye who could not make it to the event also felicitated with the Jumoke and her husband via the phone.
Olufemi Ogedegbe a seasoned Nigerian movie maker who earlier in the day cancelled his trip to Dubai and London in order to be part of the child naming, also recorded attendance. He described Emmanuel as a phenomenon he holds on high esteem having displayed some rare qualities in the practice of journalism, Public Relations and media consultancy in Nigeria and beyond.