Court Declares Dele Abiodun PMAN President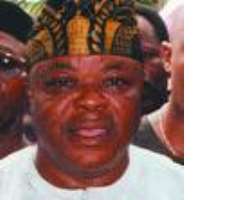 A Lagos High Court sitting in Ikeja, under the Hon. Justice L. G. A. Marsh, yesterday, declared Cyril Bamidele Alele, a.k.a. Admiral Dele Abiodun, president of the Performing Musicians Association of Nigeria, PMAN.
While delivering his judgement in a three-year-old legal battle between the association and Abiodun, Justice Marsh ordered the erstwhile presidents of the association, Tee Mac Omatsola and Charles Chukwuemeka Oputa, a.k.a. Charly Boy, George Dureke, Okey Dike and their cohorts to stop parading themselves as officials of PMAN. The court also declared that Admiral Dele Abiodun should be given free access into PMAN's secretariat and that he can call for a fresh election at the end of his tenure in accordance with the constitution of PMAN.
Earlier, the court dismissed an application against the reading of the judgement brought before it by PMAN's lawyer, Barrister Rotimi Abimbola. Speaking after the judgement, the PMAN president, Admiral Dele Abiodun, said: "We are happy that the battle is over. The judgement is a victory for the judiciary and the rule of law." While congratulating Nigerian musicians, he said; "we are out of bondage. As for our colleagues in the other camp, they should realise that we are one family. We will work together to give the association the best."
Present at the court were Dele Abiodun's counsel, Barrister Fred Agbaje, with two other lawyers, Rotimi Abimbola, George Dureke, Okey Dike and others. Three years ago, PMAN's president, Admiral Dele Abiodun, won an election in Uyo, Akwa Ibom state, but the erswhile president, Charly Boy, through his second vice president, Orits Wiliki, went to court to stop him from parading himself as the authentic PMAN president. Charly Boy also went to Kaduna to conduct another election that produced Bolaji Rosiji, the Hare Krishna monk, as president. Following the resignation of Rosiji from the office in questionable circumstances, Tee Mac was appointed into the office.