MILITARY BRUTALITY AGAAIN: HOW BOOKSELLER WAS TORTURED, BEATEN TO STUPOR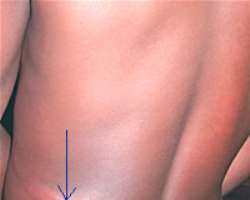 The lacerations inflicted on Joseph by the soldier's whip
Oh my God, help me. Honestly speaking, I thought the end had come for me. All I could do was to pray silently until help came from above".
Those were the expressions of Mr. Umoru Joseph, a 30-year-old book seller from Ososo, in Akoko Edo local Government Area of Edo State as he managed to get to the Tribune office on Saturday 15 November, 2008 to give an account of how he was beaten and tortured by a military personnel.
The incessant barbaric and uncivilised act by military personnel was re-enacted in Ibadan when a soldier of the rank of Lance Corporal of the Letmauck Military Cantonment, Eleyele,Ibadan, used horsewhip to beat and torture him almost to the point of death.
This development followed a similar assault on a lady, Uzoma Okere, early this month by some armed naval personel attached to Rear Admiral Harry Arogundade, in Lagos.
The latest victim, Umoru Joseph, gasping for breath like someone rescued from the jaws of a hungry lion as he spoke to http://nollywoodgists.com, said that on that Saturday, he had come from his base in Osogbo to supply textbooks to students of the School of Nursing Eleyele, Ibadan.
Joseph, who claimed to be from a polygamous home, explained that after the transaction, he left the school premises to the school gate at about 1.30pm and waited to board a taxi or commercial motorbike to Mokola Roundabout.
After 10 minutes of waiting, Joseph decided to leave the spot, moved to the main road and while trekking, he saw six ladies quarelling with a solider who they accused of impregnating one of them.
Joseph said he did not wait to watch the scene, but moved few metres away, stood under a tree to wait for a vehicle.
It was while waiting that the lance corporal came to challenge him, demanding to know his mission around the area.
The explanation offered by Joseph was not tenable to the soldier. According to Joseph, as he was about to leave, the soldier held his clothe, pulled him back and slapped him.
The angry looking soldier said, "you bloody civilian, I am talking and you still have the guts to look at my eyes."
The soldier dragged him to their compound and ordered him to lie face down. He was beaten with a horsewhip.
"The soldier flogged me severely on the back as if I was a criminal. He cocked his gun, threatening to shoot me if I dared attempt to get up and run away. He alleged that I had come round to steal and that I was spying at the spot he met me. I told him that I was not a thief, but he did not agree".
At that point Joseph said he used his handset to call two students of the School of Nursing, who had earlier bought textbooks from him before leaving the school compound. The two students came, they told the soldier that he was not a thief. They pleaded with the soldier to release him but he refused.
While this was going on, an officer in mufti drove in in a green colour Peugeot 504 saloon car and demanded to know what was going on. The soldier again told the officer that Joseph was a suspect. The officer, said Joseph, upbraided the soldier, asking why he did not hand over Joseph to the police if he was truly a suspect. The officer, therefore, asked the soldier to release Joseph immediately.
It was a lucky escape for Joseph who had had a premonition that something bad would happen to him.
Joseph said that few days before the incident, he had dreamt that some masquerades beat him for exposing their culture. He informed two of his siblings staying with him and jointly, they prayed to God to avert it. Joseph said he remained grateful to God for not allowing the soldier to kill him.
When http://nollywoodgists.com visited the Public Relations Unit of 2 Mechanised Division on Joseph's alleged ill-treatment, an officer who did not want his name in print advised that if Joseph could identify the soldier, he would not go scot free.