SIASIA NEEDS NEW STRATEGY TO BEAT MADAGASCAR -AKPOBORIE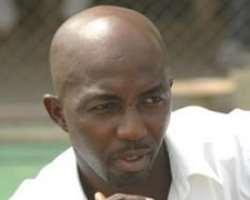 Nigerian former international, Jonathan Akpoborie, has called on the technical crew of the Super Eagles to come up with a game plan that will ensure Nigeria's triumph in the crucial 2012 Africa Cup of Nations qualifier against Madagascar next weekend.
Akpoborie said while the Eagles were not lacking in quality, it was important that the coaches adopted a strategy that would maximise the potentialities of the players on the field of play to achieve victory especially as the team will be playing away.
''We are in a tight corner with Guinea leading us with three points, which means we have no option than to beat Madagascar. But I believe we have enough quality in the Super Eagles but that will not be enough if we don't harness their potentialities well for the game.
''It is, therefore, very important that the coaches come up with a winning strategy especially as we'll be playing away.
That is the difficult part. Madagascar has nothing to lose in this game and that would make things difficult for the Eagles if we don't adopt the right game plan,'' said the former Wolfsburg of Germany striker.
Speaking further, Akpoborie said it would be a disaster if the Eagles fail to qualify for the Nations Cup, adding that the NFF should make adequate travelling plans and ensure the players are well motivated.
''Nigeria cannot afford not to be at the Nations Cup because that will be total disaster.
The NFF should ensure the players are well motivated to perform to their optimum level in the game.
Nothing should be left to chance and adequate travelling arrangement should be made for the players' comfort, ''said Akpoborie, while praying for the Eagles' success.