Don Jazzy Offers Over N1.2 Million in Oliver Dance Competition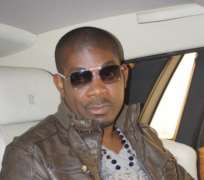 For over three weeks, Mohits Records boss, Michael Collins a.k.a Don Jazzy 'Enigma Music Competition created so much buzz on and off Twitter, getting so many artistes all creative and yet again he is in the news offering over N1.2 Million naira ($7,500) and other consolation prizes for a Dance Video Competition to D' banj new song, Oliver. Mohits Records have stated the call for fun videos from either individuals or group dancing to the Oliver song, which the Mohits crew themselves made a fun video to on their official website dancing energetically to tunes radiating from the gigantic sound system behind them.
According to Mohits Records' official website, 'following the success of the #Enigma competition we at Mo'Hits Records have decided to give a chance to people with different kinds of talent – Dance, Comedy or anything Entertaining…'
Don Jazzy gave away N560, 000 naira ($3, 500) in the Enigma competition where he created the beat and released on Twitter for artistes to sing over. However, unlike the first contest which has three places, this one has five positions; 1st place gets $2, 5000, 2nd place to grab $2, 000, 3rd $1, 500, the 4th position to get $1,000 and finally in the 5th position $500. He also stated that top 10 entries will be part of the Official Oliver video and top 50 to get a free Koko Mobile Handset.
Ranking as the first Nigerian to get over 100, 000 followers on Twitter, Don Jazzy has emerged as a strong brand himself. And just as the mad-rush flooded the streets, facebook and twitter at the release of Enigma, we bet this again would keep many so busy.