MUDA LAWAL'S SON EYES EAGLES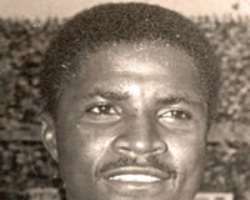 Twenty years after his death, Mudashiru Babatunde Lawal is about to resurrect in the Super Eagles. This is not courtesy of the plans being made by the Nigerian soccer federation to immortalise him, but via his 22-year old son, Seun, who has vowed to lace his boots for Nigeria.
Lawal's last child, who spoke exclusively to Daily Sunsports in London, said what has delayed his taking his football career to the next level was his university education, which he hopes to complete in another one year.
'I know I have what it takes to play football at the highest level. For now, I am concentrating on my studies. Age is still on my side and what I intend to do is to focus on the game after my university education. All I need do is to play for a club and work on my stamina. I have got the talent and just like my father, I can play anywhere in the midfield,' he said.
Seun, who was full of praise for the Nigeria Football Federation (NFF) for remembering his late father, said the honour being done to his father has further fired up his desire to horn his soccer skills and possibly play for the country.
'I am happy the soccer federation has remembered my father over 20 years after his demise. Thank God things are changing because Nigeria is a country where heroes are easily forgotten. I feel like now lacing boots for Nigeria,' he said. Seun's mum, Mrs. Lawal, while throwing weight behind her son, noted that the boy is even a better player than her late husband, who in 1980, marshalled the Green Eagles' midfield when Nigeria hosted and won the Africa Cup of Nations.
In the words of Mrs. Lawal: 'My boy, Seun, is very good on the ball. I have seen him play and from what I have seen of him, he will be a great player. In fact, he is more skillful than my late husband.'
Mrs. Lawal said she had insisted on Seun acquiring university education before delving fully into football.
'He is reading Sports Science. Once he is done with his degree programme, then I wish him the very best in his soccer career. I pray, he ends up playing for Nigeria just like his dad,' she said.