COP KNOCKS OFF LADY'S TOOTH FOR 'SENDING' RATS INTO HIS APARTMENT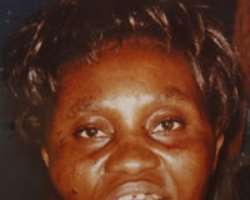 What could make a police officer, Lemi Nasi, knock off the tooth of another man's wife? This is the question agitating the minds of many, especially residents of Bosere Street, Mile 12, Lagos.
But the victim, Mrs. Florence Nwankwo, gives a clue to what transpired that fateful July 10, 2010, between Lema and her family before she suddenly found one of her teeth lying on the ground and others shaking, as they have been literarily displaced from the jaw.
She said: 'He came to fight me and my husband because of a dead rat. He said it was our prayers that drove two rats into his apartment, and that he succeeded in killing one, while one escaped.'
As funny as it may sound, impeccable sources insisted that it was a disagreement over rat that would have cost the victim her life.
Mrs. Nwankwo and her husband, Emmanuel, from Etche, Rivers State, hold vigils in their apartment and their neighbours attested to this. But unknown to the couple, some of the residents, detested the practice, and plotted to teach them a lesson.
July 10, 2010, actually provided an ample opportunity for one of the aggrieved neighbours, Nasi, a police Sergeant, from Ogoni, Rivers State to vent his anger on the 'praying couple'. That day, Florence and her husband had observed a vigil between 1 and 4 am and decided to have a nap till 8 am. As they woke and tried to open the door, two hefty men were said to be standing by, to tear them to pieces for their 'dangerous prayers'.
'When I opened the door, I saw two men, who emerged from Nasi's room. He, his wife, their second daughter and the men, started beating me till I fainted. They knocked off one of my teeth, while others are still in bad state, shaking, because of the hard object they used to hit my jaw,' she told Daily Sun.
After the torture on that rainy day, she was rushed to the Mile 12 police post, but the policemen, who thought she was dead, asked them to take her to the hospital to be deposited in the mortuary, if confirmed dead by the doctors. 'I was rushed to the Lagos State University Teaching Hospital (LASUTH), Ikeja, where I spent more than three weeks. Nasi and his accomplices knocked off one of my teeth and inflicted serious injuries on me.'
She disclosed that when some neighbours rushed to the scene and asked Nasi why they were torturing her, he rushed into his apartment and brought a dead rat and showed it to them, saying it was their prayers that forced the rats into his room before one of them was killed.
She said: 'He told them that while we were praying in our room, two rats ran into his room and he succeeded in killing one of them. He told them it was because of the rats that they fought us.'
It was not only the neighbours that Nasi told his grouse with the couple, he actually took the dead rat to the Mile 12 police post and tendered it as evidence. 'But police gave him two weeks to make peace with us but he refused, saying until we stopped praying in our apartment,' she said.
But when the policemen at Mile 12 could not handle the case satisfactorily, Mrs. Nwankwo reported the matter at the Force Provost, Kam Salem House Annex, Obalende, Lagos. After listening to the two parties, the cop was given two months to beg the couple for forgiveness.
'He still refused. I kept going to Obalende, and he refused to show up on the appointed dates. I continued going there till December 2010 (six months). At a point, the Investigating Police Officer (IPO) warned me to stop coming there, that my presence was annoying him. His statement made me to break down in tears. Nasi had already induced them with money and even boasted to me, when he came back, that he had used money to block all the loopholes.
Luck, however, smiled on her the day she went to Obalende and was directed to a journalist, one John, who took up the matter and agreed to accompany her to the Force Provost. When the policemen realized that John was a journalist, those concerned became jittery and revisited the case.
'That was the only time that the police ordered for the arrest and detention of Nasi at the Adeniji Adele police station.' After his detention, they commenced his Orderly Room trial, headed by Joseph Oludayi Ola, a Deputy Superintendent of Police (DSP). That was in March 2011. His own daughter even came to the police station to testify against him,' she told the reporter.
According to Mrs. Nwankwo, those who conducted the trial recommended Nasi's dismissal from the police and his trial in the court of law. Florence is, however, worried that since after the Orderly Room trial in March this year, Nasi is still in the police force, boasting to have 'killed' the matter, while she is still writhing in pains, even as doctors said she needs to extract three of her teeth or travel to Germany for further treatment.
'I was told that I needed to extract them here in Nigeria urgently, or travel to Germany for treatment. According to the doctors, the whole of my jaw is affected.' 'I can no longer chew meat, fruits, any hard food or drink cold water. There are also injuries all over my body and my face swells up all the time. My life is in danger. I am really suffering. Each time the man comes back from work, he would be boasting he has closed the case. I don't know who is sitting on the case.
I want justice, because God has already given me justice, through the Orderly Room trial. Each time, I go to the Force Provost, they would tell me they are still expecting IG's approval of the judgment. But I heard from somebody that the file has not even left Obalende for Abuja, since March that the judgment was delivered.
'He is till threatening my life. On July 26, 2011, his wife attempted to stab me. My life is in danger, because of the failure of the police to punish the officer for beating me up, inflicting injuries on me, and knocking off one of my teeth. You see, I now live on calcium and cod liver oil, I don't eat meat or drink cold liquid, I don't even chew fruits and I have been living in pains, because of the head injury I sustained during the torture. Why did the man and his wife want to send me to early grave because of a rat? I really need justice.'
Ironically, when the two families packed into the compound in June and May, 2008, respectively, it was the cop who was said to have confessed how he liked the way Florence prayed and attended church services, and appealed to her to be taking his daughter, Abigail, to the church.
According to the victim, before then, Abigail was not attending any church. 'Abigail initially refused to follow me to church. Her father was even beating her up for refusing to follow me. I preached to her regularly and begged her to be following me to where I was worshipping. That was, Triumphant Christian Centre, Kudirat Abiola Way, Oregun. Abigail attended a church programme, meant for breaking of curses and after the event, her father told her not to follow me to the church again. That was after she was 'arrested' by the Holy Ghost. But Abigail refused to heed his advice, reminding him that it was he, who was disturbing her to follow me to the church.'
Daily Sun investigation revealed that in spite of the sanction recommended against him, the officer, attached to the Dog Section of the Shell Petroleum Company with the Force number 149895, has attended a promotion course at Oji River, Enugu State. But paragraph three of the letter communicating the approval of the Inspector-General of police for the promotion course, signed by K.C. Katso, stated clearly that those facing disciplinary action are not allowed to attend promotion course.
'You are directed to screen all affected in your commands/formations and ensure that those with pending disciplinary matters are not allowed to attend the course and inform those qualified to go along with the following documents; confidential files, Letter of Promotion to present Rank (NCOs) and posting letter (Constables).'
Mrs. Nwankwo, through her lawyers from Wisdom Chambers, petitioned the Inspector- General of Police, informing him of how Nasi wanted to kill her client and urged him to stop him from taking part in the promotion course.
The petition, which was signed by Favour Amadi stated: 'This matter was reported to the Provost Marshall through our humble petition. His matter was thoroughly investigated by the Provost Marshall, tried under police laws and his dismissal from the Nigeria Police, and subsequent trial in court of law for attempted murder, was recommended to the police authority.'
'The police trial, the statements of all the witnesses and the subsequent recommendation have been forwarded to your good office. This letter to your good self has become necessary, as we are informed by the Sgt. Lema Nasi himself, through his many boasts in the area, where he lives with our client, that he is going on promotion course at Oji River.
'On investigation, we found out that his boasts are true and we were also informed that those facing disciplinary matters are not eligible to attend.' The petition was also copied to the Commandant, Nigeria Police Training College, Oji River, the Commissioner of Police, Lagos State and the Commissioner of Police, Enugu State. Her lawyer also petitioned the Force Provost, narrating what transpired between her client and Sergeant Nasi, so as to get justice for her client.
When contacted on phone to comment on the matter, Sgt Nasi narrated how he assisted Florence and her husband to secure an apartment, when they were in dire need. He also told how their relationship was cordial before things went awry. The cop also disclosed how Florence made his daughter, Abigail, to rebel against him each time he tried to discipline her as a father.
According to him, it was Florence, who came back from church one day to announce that Abigail was possessed with evil spirits. He admitted that there was a running battle between the two families, but, he could not say if it was a actually prayers and rat that resulted in a fight that led to the lady losing one of her teeth. When Daily Sun also contacted the office of the Provost Marshall, Obalende, it was confirmed that the case was reported, treated, and recommendations made to the Force Headquarters, Louis, Edet House, Abuja, for further action.
The officer, who spoke to the reporter on the condition of anonymity said: 'Our own is to treat the matter accordingly and make recommendations to the appropriate quarters. Since it involved bodily harm or injuries, we treated the matter according to the laid down rules. We have done our own part, we are not the Inspector General of police. We have done our own part. I am not in position to talk to the press. You can contact Abuja or my Commissioner,' he said.