NO CONTACT YET FROM KIDNAPPERS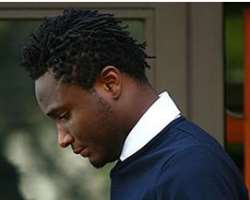 Mother of Chelsea star, Mikel, Mrs. Rose Obi, whose husband was kidnapped last Friday, has refuted media reports that the kidnappers had contacted the family; saying it was only his car that was discovered.
She said in an interview in Jos that the car of her husband, a Mercedes Benz, was recovered around Kwall Falls, in Riyom Local Government Area of Plateau State.
Mrs. Obi said the kidnappers were yet to contact the family and this was putting the family in a very bad situation as we do not know his condition.
'We have not been contacted and do not know his present location. We have only recovered the car through the assistance of somebody who saw it and reported to us.
'As it is now, we are still expecting a call from the kidnappers, but we are yet to get any.'
Police Commissioner Dipo Ayeni, said that he was not aware that the kidnappers had contacted the family. He, however, confirmed the recovery of the car.
He assured that the police is making frantic efforts to get to the root of the matter; adding that they have deployed its network of intelligence and are working round the clock to ensure that he was rescued.